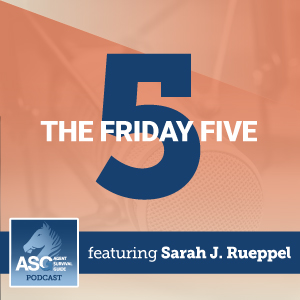 The Friday Five for February 5, 2021:
Humana announces Chief Health Equity Officer
Elizabeth Warren Joins New Senate Committee
Comparing COVID-19 Vaccines
BBB Says No to Posting COVID-19 Vaccine Card on Social - Here's Why
Using GameStop Stock Profits for Good
Mentioned in this episode:
9 best last minute Valentine's Day gift ideas for everyone in 2021
14 seriously great practical gifts your valentine will love
18 of our favorite Valentine's Day gifts of all time
A college student made big bucks off GameStop stock. Now he's donating video games to a children's hospital
BBB Tip: Don't share your COVID-19 vaccine card on social media
Chutes & Ladders–Humana names first chief health equity officer; Providence promotes execs in integration strategy
Different COVID-19 Vaccines (CDC)
How the COVID-19 Vaccines Compare to Each Other
Plunging GameStop Stock Tests the Will of Investors to Stick With the Ride
Warren to join Finance panel overseeing taxes, health care
More episodes you'll like:
January 29, 2021 | The Friday Five
The Friday Five for January 29, 2021: Ritter Insurance Marketing & Quick Insured Brokerage, Online Medical Accounts & COVID-19 Vaccine Registration, Do's and Don'ts of the COVID-19 Vaccine, PPP Loan Tax Information for Small Businesses, Blackstone & Allstate Life Insurance
How to Be an Adaptable Insurance Agent
Do you go with the flow, or do you like a little more control? Find out why adaptability is a great skill for insurance agents to master.
The Top 5 Products to Sell During Medicare's Lock-In Period
Looking for insurance products to sell during the Medicare lock-in period? In this episode, we highlight the top 5 products insurance agents should include in their portfolio all year round!
Articles to Share with Your Clients:
Internet Safety Tips for Seniors
The internet can be an entertaining and informative place, but there's also a darker side to it. It's easy to fall prey to scams, identity theft, or bad information. Here are a few internet safety tips so you can protect yourself online.
Mood Foods: Foods That Boost Your Mood
If you're feeling a bit down, the solution might be in your kitchen! We found some foods that boost your mood when you need a pick-me-up.
When Can I Get a COVID-19 Vaccination?
There are many questions surrounding the rollout of the COVID-19 vaccination. When can you get one? Where? Is it safe? We're giving you some answers and resources where you can find additional information!
The latest from Ritter's Blog:
Best Practices for Writing an Email to Your Insurance Clients
A professional and effective business email takes some thought and care to construct. This is true across all industries — and even for insurance agents writing marketing or follow-up emails to their clients.
How to Be an Adaptable Insurance Agent
In today's ever-changing world, being adaptable is not only good for business, it's a necessity. As an insurance agent, you need this skill to keep up with the times and your clients' unique needs.
How to Take on an Upset Client in the Insurance Industry
At least once in your sales career, you may meet an insurance client who had a negative experience with another agent, plan, or insurance in general. While these bad experiences were out of your control, you have the ability to make their next experience a positive one!
Subscribe & Follow:
Connect on social: