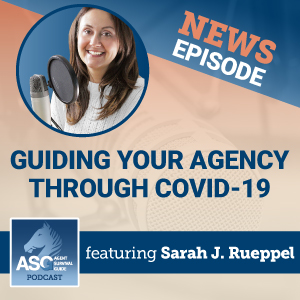 It's an unprecedented time. COVID-19 has shut down businesses small and large, and if you're wondering how to run your business during a pandemic, you are not alone. How can your insurance agency continue to help clients and stay productive amidst the coronavirus pandemic? We've got some insight that might help.
Mentioned in this episode:
Business Interruption Insurance
Cleaning and Disinfecting Your Facility
Coronavirus: What is 'flattening the curve,' and will it work?
Get the Most Out of Medicareful With Its New Account Feature
Gov. Gavin Newsom of California Orders Californians to Stay at Home
Gov. Tom Wolf issues 'stay at home' order for multiple counties; school closures will continue two more weeks
Guidance on Preparing Workplaces for COVID-19
Interim Guidance for Businesses and Employers to Plan and Respond to Coronavirus Disease 2019 (COVID-19)
Modern Medicare Marketing for Today's Agents
Pa. schools won't reopen this spring, will remain closed until end of academic year
SBA Disaster Assistance in Response to the Coronavirus
SBA Paycheck Protection Program
Social Media Marketing for Insurance Agents
Scientists warn we may need to live with social distancing for a year or more
More episodes you'll like:
April 3, 2020 | The Friday Five
The Friday Five for April 3, 2020: Some Good News; CARES Act stimulus checks; Mental Health Minute; Brothers Cuomo and Mom's Sauce; and Girl Scouts Cookie Care.
Q&A with Craig Ritter | State of the Senior Market 2020
Craig Ritter answers your questions! Ritter Insurance Marketing President, Craig Ritter recently sat down to answer questions from his 2020 State of the Senior Market series. He also addressed agent questions about how COVID-19 will affect their insurance business moving forward. This can't-miss episode is full of timely information for insurance agents selling Medicare!
Should Insurance Agents Have Their Own Website
To have a website, or to not have a website? Does my insurance business really need its own website? What would I use it for other than contact information? How do I get started? We answer all these questions and more in this must-listen episode of our Agent Survival Guide Podcast!
The latest from Ritter's Blog:
2020 State of the Senior Market: In Review
Craig Ritter, president of Ritter Insurance Marketing, once again gave his annual State of the Senior Market address, but this year, with a little twist. Rather than one long webinar, his address was broken into a four-part video series. We took the highlights from each episode and put them all in one place - this article!
How to Successfully Set SMART Goals
Setting goals is great way to keep your business on track with a clear path ahead. We recommend setting goals at the beginning of each plan year to help you flourish in the year to come.
What Agents Can't Say During Medicare Sales Appointments
The Centers for Medicare & Medicaid Services have some strict rules on what agents can and cannot say during Medicare sales appointments, but pulling them out of the dense Medicare Communications and Marketing Guidelines (MCMG) can be tough and time-consuming. Here are some examples to help simplify things!
Subscribe & Follow:
Connect on social: