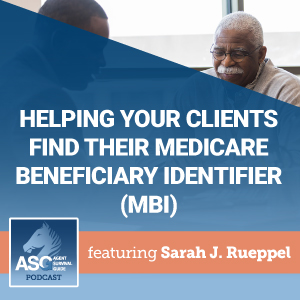 Need to help a client look up their Medicare Beneficiary Identifier? What can you do now that the lookup feature on MyMedicare.gov has been phased out? We've got four ways insurance agents can help their Medicare clients in this episode of the ASG Podcast.
Mentioned in this episode:
CMS Completes New Medicare Card Distribution Early
Medicare Beneficiary Identifiers
What To Do if Your Medicare Card is Lost or Stolen
What You Need to Know About New Medicare Cards
More episodes you'll like:
The Friday Five for May 8, 2020: AHIP 2021 Training Update; Humana Waives Copays and Cost-Sharing, Talks Telehealth; Headphones to Help WFH; Krasinski Keeps Some Good News Coming; and How to Celebrate Mother's Day During a Pandemic.
How to Add Technology to Your Insurance Business
Need to bring technology into your business? Not sure where to begin? Start by listening to this episode! We'll help you revamp your insurance sales process.
More People Working Past Age 65: What It Means for Insurance Agents Selling Medicare Plans
What does Medicare look like for your clients working past age 65? This is one of the most common questions we get from insurance agents. And we've got answers! Learn how to help clients enroll in Medicare when they plan to continue working. We'll even cover how to help a client that's already on Medicare who wants to "unretire" and rejoin the workforce! You don't want to miss this episode of our ASG Podcast!
The latest from Ritter's Blog:
How You Can Sell Insurance in Your State During COVID-19
We've gathered information regarding your state's stance on in-person sales during the COVID-19 pandemic, as well as information about applying for unemployment benefits as a self-employed worker.
Why It's Time to Take a More Relaxed Approach to Insurance Sales
How many times have you walked into a store just wanting to look at something, but ended up walking out with nothing because the stakes felt too high? Maybe you were turned off because you couldn't "just look" without a salesperson trying to give you their spiel? They "pushed" you right out the door, didn't they? Here's how (and why!) to make sure you're not that salesperson.
5 Steps to Selling Medicare Supplements Successfully
Whether you're already selling Medicare Supplements or just starting to look into offering this type of product, there are five simple steps you can take to find more success in your sales. Do you know what they are?
How to Successfully Set SMART Goals
Setting goals is a great way to keep your business on track with a clear path ahead. We recommend setting goals at the beginning of each plan year to help you flourish in the year to come.
Subscribe & Follow:
Connect on social: