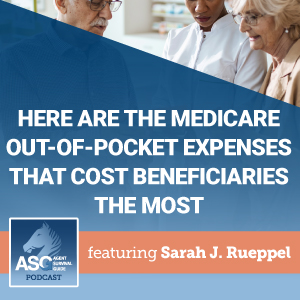 How much do your Medicare clients spend on their Medicare coverage in a year? Do your clients know what out-of-pocket expenses they can expect with Medicare? In this episode, we explore the costs your clients pay out-of-pocket for Medicare, whether they've got Original Medicare, a Medicare Supplement, a stand-alone Medicare Part D plan, Medicare Advantage, or MAPD. We look beyond premiums, breaking down out-of-pocket exposure into deductibles, coinsurance, copays, prescription drug costs, medical supplies, ancillary expenses, networks, and other deciding factors. It's a must-listen for every insurance agent!
Mentioned in this episode:
How Much Do Medicare Beneficiaries Spend Out of Pocket on Health Care?
2020 Medicare Part A and Part B Premiums and Deductibles
7 Powerful Practices for Selling Prescription Drug Plans
Are You Offering Multiple LTC Insurance Options?
Defining the True Value of $0 Premium for Medicare Advantage Plans
Durable medical equipment (DME) coverage
Getting Started Selling Medicare Supplements
How to Save Your Clients Money on Prescription Drugs
Is Your Doctor in Your Medicare Plan's Network? How to Tell
Sense Success with Dental, Vision, and Hearing Plans
Your Formulary: Knowing What's Covered
More episodes you'll like:  
July 17, 2020
<summary>
FAQs About NAHU Medicare Certification
Got questions about NAHU's Medicare Advantage and Part D certification training? We've got answers! In this episode, we talk about the cost of NAHU certification, CE credits, training module topics, and more – you don't want to miss it!!!  
NEW: NAHU 2021 Medicare Certification Training
NAHU just launched a brand-new Medicare certification training for agents selling Medicare Advantage and Medicare Part D for the 2021 Annual Enrollment Period. Find out the details on this alternative to AHIP Medicare certification, including pros and cons, NAHU vs. AHIP, and more!
The latest from Ritter's Blog:
How to Check for Your First Looks
The moment when carrier First Looks become available is a very exciting time for insurance agents! It can put a spring in your step and help you get in the mood for the upcoming Annual Enrollment Period!
2021 Maximum Broker Commissions for Medicare Advantage & Medicare Part D
Ritter has everything you need to know about 2021 maximum broker commissions for Medicare Advantage and Medicare Part D initial enrollments. Note: Insurance providers are NOT REQUIRED to pay the maximum commission rate.
Reassuring Clients During Difficult Times
During times of uncertainty, like the COVID-19 pandemic, it is likely that your clients will look to you for reassurance, and answers. Are you prepared to provide the support they are seeking?
Subscribe & Follow:
Connect on social: