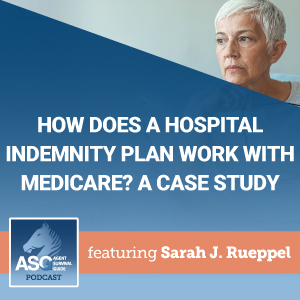 Find out how Hospital Indemnity plans combine with Medicare for powerful coverage solutions. We take a look at a specific case in this episode.
Mentioned in this episode:
Boost Business Selling Hospital Indemnity Insurance
Cover those Copays with Hospital Indemnity Plans
Medicare MSA Plans & Hospital Indemnity Insurance: The Perfect Pair
Selling Hospital Indemnity with Medicare Advantage: Is It Worth It?
More episodes you'll like:
July 9, 2021 | The Friday Five
In this episode: Medicare DVH expansion, HHS & surprise medical bills, summer reading for Advisors, can breathing exercises lower blood pressure, and shrinkflation.
Prepare for AEP with the Agent Survival Guide! The Annual Enrollment Period will be here before you know it! Use our checklist to plan ahead, and you'll be "ready-to-sell" with plenty of time to spare.
Understanding the Details of Annuities
Learn the ins and outs of annuity insurance sales. We've packed all the info in this explainer episode, what annuities are, the different types, how they work, and how to sell them.
Articles to Share with Your Clients:
The Health Benefits of Volunteering
Volunteering is a great way to serve your community, but did you know that you can also get something out of it? Here's how volunteering can be great for your health!
The chemical monosodium glutamate is a surprisingly controversial one. What's the truth behind MSG, and is it really that bad for you?
Why Am I in Observation Status for Medicare?
You recently needed to go to the hospital and take a short trip to a skilled nursing facility for rehab afterwards. Luckily, it's all covered, right? Not if you've only been receiving observation services...
Ritter Insurance Marketing eBooks & Guides:
A Quick Guide to Cross-Selling Ancillary Insurance with Medicare Products
Modern Medicare Marketing for Today's Agents
The Complete Guide on How to Sell Medicare Advantage Plans
The latest from Ritter's Blog:
FAQs About NAHU Medicare Certification
Got questions about NAHU's Medicare Advantage and Part D certification training? We've got answers!
AHIP Test Tips and Tricks for Medicare Certification
Planning on taking the AHIP Medicare training test for the first time? You don't have to stress! We've put together a list of tips and tricks for passing AHIP that will help you, and even more experienced agents, improve your chances of getting AHIP certified on the first try!
NAHU 2022 Medicare Certification Training
Like AHIP, NAHU is back offering a Medicare certification training for agents who'd like to sell 2022 Medicare Advantage and Part D products for the Annual Enrollment Period. NAHU's 2022 certification opens July 1, 2021!
Subscribe & Follow:
Connect on social: