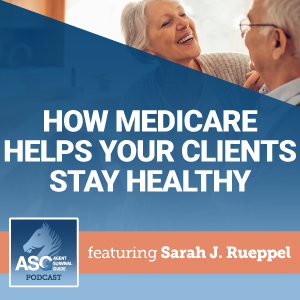 Did you know that Medicare is about more than just those moments when your clients are sick? Learn more about the health and wellness side of selling insurance.
Medicareful Living Links
Add ?agent=YOURSLUG to the end of any Medicareful Living link you share, replacing YOURSLUG with your personal agent slug.
Example:
Medicareful Living link: https://living.medicareful.com/superfood-snack-hack-kale
Personalized Medicareful Living link: https://living.medicareful.com/superfood-snack-hack-kale?agent=YOURSLUG
Mentioned in this episode:
Flu shot: Your best bet for avoiding influenza
Getting Started Selling Medicare Supplements
Grow your Medicare Business with Medicareful
Investopedia: Preventive Services
Medicare coverage of preventive care services
New Study: Daily Walk Can Add 7 Years to Your Life
Welcome to Medicare preventive visit
What is a Medicare Wellness Visit?
What You Should Know and Do this Flu Season If You Are 65 Years and Older
Why Seniors Should Avoid Isolation
More episodes you'll like:
February 12, 2021 | The Friday Five
The Friday Five for February 12, 2021: Clover Health News, Oscar Health News, Consumer Health Insurance Knowledge, Good Health Pass Collaborative, and Removing that Zoom kitten filter
5 Tips for Using Medicareful to Sell More Medicare Plans
Get the tool that can help you sell more Medicare plans - Medicareful! These are just some of the highlights: electronic PTC and SOA in one, quote and enroll clients remotely, and store client prescription drug info in the Ritter Platform! Learn more and get your own FREE Medicareful site today!
What to Know About SOAs in Senior Market Sales
Have questions about SOAs? Find the answers to your frequently asked questions in this episode all about Scopes of Appointment. We help you stay compliant, whether it's inside or outside of AEP!
Articles to Share with Your Clients:
How Does Prior Authorization Affect Medicare Coverage?
Prior authorization can influence the care and coverage you receive through Medicare, but it influences different parts uniquely.
Mood Foods: A Breakfast That Boosts Your Mood
Breakfast is the most important meal of the day for a number of reasons, but it's critical to boosting your mood so you can greet the day at your best!
You may be wondering about dual citizenship. How can someone be a citizen of two countries? Not only is it possible, it may have some unique benefits for your life and family.
The latest from Ritter's Blog:
Medicare Advantage Trial Rights Explained for Agents
If you have a client who enrolled in a Medicare Advantage plan but wants to go (back) to Original Medicare, they may qualify for a Medicare Advantage trial right! This would allow them to update their coverage outside of the Annual Enrollment Period.
Ritter Continues Expansion, Acquires Ohio-Based Quick Insured Brokerage
Ritter has announced its merger with Ohio-based Quick Insured Brokerage (QIB), an independent wholesale brokerage agency.
Ritter and HTA Financial Services Merge Medicare Wholesale Businesses
Ritter Insurance Marketing is excited to announce the merger of HTA Financial Services (HTA) and Ritter's wholesale Medicare business.
Subscribe & Follow:
Connect on social: