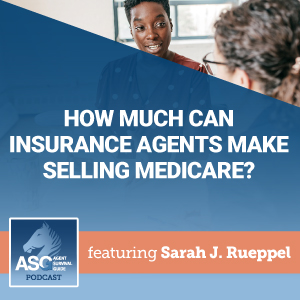 Want to know how much money insurance agents can make selling Medicare? We talk commissions to give you a better idea of how lucrative expanding your portfolio into the senior market can be.
Mentioned in this episode:
2021 Maximum Broker Commissions for Medicare Advantage and Medicare Part D
4 Reasons Why Ritter Should Be Your FMO Insurance Agency
Assignment of Commissions Definition
Potential Medicare Commissions Calculator Template
Ready to Join an FMO? 10 Things to Consider
The Best Software for Tracking Your Medicare Commissions
More episodes you'll like:
4 Perks of Partnering with an FMO
What exactly is a field marketing organization? Why partner with an FMO? If you've been debating joining an FMO, you don't want to miss this episode!
FAQs About Working with Ritter Insurance Marketing
Have questions about partnering with Ritter Insurance Marketing? Not sure what a field marketing organization is, or how joining one can help your insurance business? Curious about lead programs, CE credits, and other opportunities FMOs like Ritter have to offer? We talk with our sales team to answer common questions about working with FMOs and more!
FMO vs. IMO vs. NMO vs. MGA vs. GA: What's the Difference?
We've got a lot of jargon to keep up with in the insurance industry. In this episode, we're going to unpack the acronyms for the types of individuals and organizations that exist in the industry to help you make your some of your business decisions a whole lot easier.
Ready to Join an FMO? 10 Things to Consider
Thinking about partnering with an FMO? Wondering how you can tell the good from the bad? Our top 10 list outlines what you need to know before you partner with a field marketing organization.
What an FMO Can Do For Your Business
Why work with an FMO? What is a Field Marketing Organization? If you've been on the fence about joining an FMO, this can't-miss episode is for you!
Articles to Share with Your Clients:
Home Improvements for Seniors Aging in Place
As we get older, our needs at home change. If you're planning on aging in place, these are a few house modifications for seniors that can make home safe and comfortable.
How to Speed Up a Cold Recovery
While the cure for the common cold hasn't been found yet, there are ways to make your recovery from it as speedy as possible. Here are a few ways you can get over a cold faster when you're feeling ill.
The Coverage Rules for Medicare Part D Plans
You've come to rely on your Medicare Part D plan to give you coverage for your prescription drugs, but there are rules that govern this coverage and its limits. What are they?
The latest from Ritter's Blog:
In the insurance industry, leads are what sustain your business. Of course, you need the contracts, training, and other skills to be a successful insurance agent, but without leads, you'll just be spinning your wheels.
LTC Planning in a COVID World: Why It's Essential
Six months. It doesn't seem like a long time, until you're unexpectedly locked down, prohibited from seeing your family and friends, in a care facility that's now a potential COVID hotspot.
2021 Medicare Part A and Part B Premiums and Deductibles
CMS recently released their numbers for 2021 premiums, deductibles, and coinsurance amounts for the Medicare Part A and Part B programs. Let's see how these changes might affect your clients in the coming year.
Subscribe & Follow:
Connect on social: