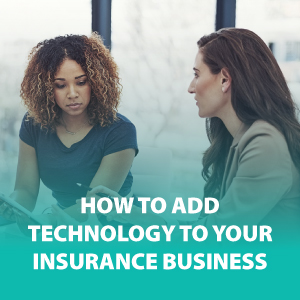 Ready to bring technology into your business? Not sure where to start? Listening to this episode is a must if you've been thinking about adding technology to your insurance sales process.
The Ritter Platform – Learn more about the combined AMS & CRM functionality and other features!
Mentioned in this episode:
5 Must-Haves for Every Agent This AEP
Key Findings for the 2018 Insurance Barometer Study
Online Shopping and E-Commerce
27 ways to MOTIVATE shoppers who research online to buy
Mobile Vs. Desktop Usage (Latest 2019 Data)
Sell More Medicare Plans Online with Medicareful
Social Media Marketing for Insurance Agents eBook
Why Client Retention Should be Your Top Priority
More episodes you'll like:
4 Reasons Why Ritter Should Be Your FMO Insurance Agency
Looking for an FMO? Not sure what a field marketing organization like Ritter Insurance Marketing can do for your insurance business? Learn everything you need to know in this can't-miss episode of the ASG Podcast!
Insurance Agents & CMS Compliance
Stay compliant with the CMS Medicare Communications and Marketing Guidelines — even while on social media. We outline the best practices for insurance agents to follow while using social media.
Social Media Privacy Tips for Insurance Agents
Online privacy is a big deal. You want to use social media to market your insurance business. How do you protect yourself and your clients? We've got some best practices. Listen to find out more!
Which podcast app is the best? Do you listen on the number one app or a different one? What features are you missing out on? In the premiere episode of our newest series, Agent Apps, we explore the top 10 podcast listening apps and the features that make each one unique.
What's New in the 2020 Medicare Communications and Marketing Guidelines? [UPDATED]
Make sure you're compliant with the latest CMS Medicare Communications and Marketing Guidelines. We've got an update on the 2020 MCMG that you don't want to miss.
The latest from Agent Survival Guide:
AHIP Test Tips and Tricks for Medicare Certification
Planning on taking the AHIP Medicare training test for the first time? You don't have to stress! We've put together a list of tips and tricks for passing AHIP that will help... (read more)
Medicare MSA Plans & Hospital Indemnity Insurance: The Perfect Pair
Peanut butter and jelly. Song and dance. Medicare MSA plans and hospital indemnity insurance. What do all these pairs have in common? They just go together! It's obvious why the first two... (read more)
The Hidden Value of Selling Medicare Supplements During AEP
While it's true the Annual Enrollment Period is the prime time to sell Medicare Advantage plans, selling Medicare Supplements provides you and your clients a very important alternative during the fall. How... (read more)
Subscribe & Follow:
Connect on social: