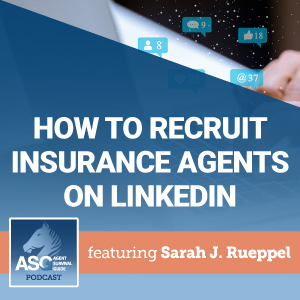 Not sure how to use LinkedIn as an insurance agent? We talk through the steps like creating your page, recruiting, and more! If you're just starting to use LinkedIn for your insurance business, you won't want to miss this episode. 
Mentioned in this episode:
Contact the Team at Ritter Insurance Marketing
How to Achieve All-Star Status on LinkedIn
How to Recruit Insurance Agents to Your Downline
Register for your FREE RitterIM.com account
Request a Recommendation on LinkedIn
Ritter Insurance Marketing on LinkedIn
Ritter Insurance Marketing on Youtube
Tech Takeaways for Forward-Thinking Insurance Agents
The Research & Science Behind Finding Your Best Profile Picture
Why Go About Your Business in an Ethical, Compliant Fashion?
More episodes you'll like:
Advertising Medicare Through Facebook
Is your insurance business on Facebook? We walk you through getting started, networking, advertising, and so much more!
Podcast Recommendations for Summer 2021
Did someone say summer 2021 podcast recommendations? Back by popular demand, Sarah has 10 more podcast recommendations to fill the void in your summer vacation. Whether you're taking a family vacation, staycation, traveling back into the office, or just need something new to listen to, we've got you covered! 🌞😎🎧
NAHU 2022 Medicare Certification Training
NAHU's Medicare training certification is back for 2022. We talk about what's new with NAHU Medicare, Medicare Advantage, and compliance requirements training for the 2022 AEP.
What is AHIP Certification and How Do I Get It?
Get the details on AHIP requirements, how certification works for insurance agents, ways to find discounts, and more. If you're getting ready for AEP, you don't want to miss this episode of the Agent Survival Guide Podcast!
Maximum Broker Commissions for Medicare Advantage & Medicare Part D
CMS recently released the 2022 maximum broker commissions for Medicare Advantage and Medicare Part D. Find out the dollar amounts you could receive for writing MA and PDP business this AEP.
Articles to Share with Your Clients:
Do you want to start a garden, but don't have the space or ability? Or, are you looking for something to bring your neighborhood together? You can do all that with a community garden!
Lemon is a great ingredient to use in your cooking, but can it also be healthy for you? Yes! Lemons are packed with antioxidants and nutrients that can be great for your health.
What are Medicare Deductibles?
We've all dealt with deductibles before, in all sorts of insurance plans. They're so common that many people and plans don't easily explain what they are and how they influence your coverage. We're answering so you don't have to ask – what are Medicare deductibles?
Ritter Insurance Marketing eBooks & Guides:
Agent Survival Kits: Beginners or Experts
Social Media Marketing for Insurance Agents
The Complete Guide to Client Loyalty and Retention
The latest from Ritter's Blog:
AHIP Test Tips and Tricks for Medicare Certification
Planning on taking the AHIP Medicare training test for the first time? You don't have to stress! We've put together a list of tips and tricks for passing AHIP that will help you, and even more experienced agents, improve your chances of getting AHIP certified on the first try!
3 Benefits of Contracting to Sell Medicare Advantage Plans Outside of AEP
Anyone in the Medicare industry is familiar with the rush to prepare for the Annual Enrollment Period. What if you could take care of a key sales task before AEP ramps up?
NAHU 2022 Medicare Certification Training
Like AHIP, NAHU is back offering a Medicare certification training for agents who'd like to sell 2022 Medicare Advantage and Part D products for the Annual Enrollment Period. NAHU's 2022 certification is now open!
Subscribe & Follow:
Connect on social: