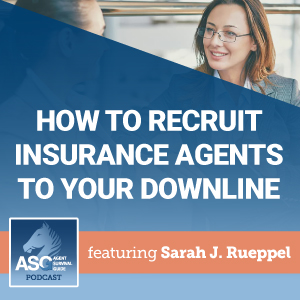 Want to build a successful downline for your insurance business? Don't miss our best practices for recruiting agents to your agency! And be sure to check out the show notes for a link to grab your copy of our eBook – Developing an Agency – Your Guide to Getting Started.
Mentioned in this episode:
Call Ritter Insurance Marketing at 1-800-769-1847
Download the Guide: Developing an Agency: Your Guide to Getting Started
Millennials overtake Baby Boomers as America's largest generation
Register with Ritter Insurance Marketing FMO
Rethinking the Extraverted Sales Idea: The Ambivert Advantage
Ritter Insurance Marketing Official Website
Starting Your Own Insurance Agency featuring Craig Ritter and Dave Dietz
Tech Takeaways for Forward Thinking Insurance Agents
The True Cost of A Bad Hire -- It's More That You Think
More episodes you'll like:
Guiding Your Agency Through COVID-19
It's an unprecedented time. COVID-19 has shut down businesses small and large, and if you're wondering how to run your business during a pandemic, you are not alone. How can your insurance agency continue to help clients and stay productive amidst the coronavirus pandemic? We've got some insight that might help.
How to Add Technology to Your Insurance Business
Need to bring technology into your business? Not sure where to begin? Start by listening to this episode! We'll help you revamp your insurance sales process.
The Best Software for Tracking Your Medicare Commissions
How do you track your Medicare commissions? Want a better solution? Listen to this episode of our ASG Podcast for suggestions on tracking (and troubleshooting!) your hard-earned insurance commissions.
The latest from Ritter's Blog:
A Review of the Top Medicare Quote Engines for Insurance Agents
An agent selling Medicare products is only as good as the Medicare quoting tool they're using. We're looking at agents' top options for fast and reliable Medicare quoting software and what makes them so special.
Ritter Can Help You Stay in Touch with Your Clients
In any type of business, client retention is just as important as taking on new clients. In the insurance world, once a sale is closed, your duty as an agent isn't over.
Working with New Medicare Clients in Poor Health
When you meet with a new Medicare client who has a serious health condition or a hefty prescription drug history, flexible coverage is key for your client's health and your book of business.
Subscribe & Follow:
Connect on social: