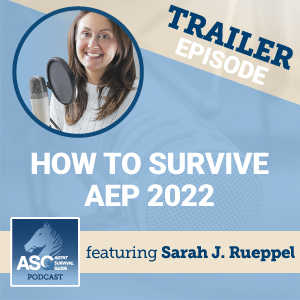 Want to survive AEP? Get prepared with us! We've updated our Surviving AEP resource. The team talks AEP prep, AHIP, compliance, and more! Oh, and did we mention you can get a free portfolio review?
Mentioned in this episode:
2022 Medicare Advantage and Part D Certification Info
4 Tips for Making a Better Insurance Sales Pitch
5 Must-Haves for Every Agent This AEP
5 Reasons Clients Switch Medicare Plans During AEP
5 Tips to Make the Most of AEP
9 Tips to Submitting an Error-Free Application
AHIP Test Tips & Tricks for Medicare Certification
Do's and Don'ts of Medicare Compliance
How to Prepare for AEP Like a Pro
How to Survive AEP: Wellness Tips for Insurance Agents
Important 2022 AHIP Certification Training Updates You Should Know
The Hidden Value of Medicare Supplements During AEP
What Agents Forget to Do When Preparing for Appointments
What Are the New Medicare Advantage & Part D Communication Requirements for 2022?
What is AHIP Certification and How Do I Get It?
What Seniors Value Most in a Medicare Advantage Plan
What to Know About SOAs in Senior Market Sales
More episodes you'll like:
September 3, 2021 | The Friday Five
How to Help Your Clients Get the Most Out of Their Medicare Advantage Plans
What Does 'Ready-to-Sell' Mean for Medicare Agents?
Articles to Share with Your Clients:
Historic 2022 COLA Prediction Increases to Largest Since 1980s
Quick and Easy Recipes for One
What are the Medicare Part D Defined Standard Benefits and Alternatives?
Ritter Insurance Marketing eBooks & Guides:
Agent Survival Kits: Beginners or Experts
How to Host a Successful Medicare Educational Event
Social Media Marketing for Insurance Agents
The latest from Ritter's Blog:
Largest COLA Since 1983 Projected & How It Affects Part B Premiums
Medicare & Medicaid Compared: How Both Programs Benefit Insurance Agents
NAHU 2022 Medicare Certification Training
Subscribe & Follow:
Connect on social: