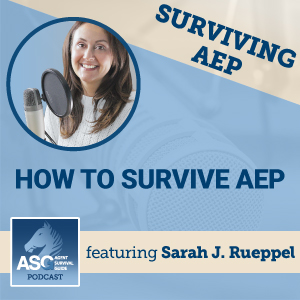 Get ready to make the most of AEP! We just launched our newest resource page - Surviving AEP - on the Agent Survival Guide Blog. If you want to really thrive this Annual Enrollment season, check it out! We talk AEP prep, AHIP, compliance, and more. There's even an opportunity for a portfolio review. Find "Surviving AEP" online at ritterim.com/aep!
Hey there! It's me, Sarah Rueppel, host of the Agent Survival Guide Podcast here to tell you about a really cool resource that we just launched on our website.
It's called Surviving AEP, and it's an entire page dedicated to helping you make the most of the Medicare Annual Enrollment Period.
That period only lasts from October 15th through December 7th, (just 54 days!) and there are quite a few things that need to be done before you're considered "ready-to-sell."
Surviving AEP lays out what that path looks like and walks you through it, step-by-step.
AEP prep, compliance, AHIP, sales, and even managing stress while you're trying to do all of those things. Very important, don't want to be like me and get shingles in the midst of a pandemic.
But enough about me, although I do think this is the coolest feature, when you subscribe to our blog through the Surviving AEP page, you get a free portfolio review as our way of saying thank you.
Check it out here: ritterim.com/aep
And as I'm known to frequently say, we will have that link in our show notes for you. Now go see for yourself!
Mentioned in this episode:
Ritter Insurance Marketing Official Website
More episodes you'll like:
June 12, 2020 | The Friday Five
The Friday Five for June 12, 2020: The Cost of Treating COVID-19; Coronavirus cases on the rise in Arizona; HHS announces new data reporting protocol for COVID-19; Lemonade files for IPO; and Federal Reserve Announces Interest Rate & Projections
Have questions about AHIP? We've got answers! In this episode, we answer some frequently asked questions about AHIP certification.
How to Sell Medicare Advantage Plans – FREE Guide
Get ready to find out what selling Medicare Advantage is all about! Whether you're already an insurance agent selling Medicare or you're transitioning to MA sales, we want to help you build your career. Our eBook is packed with information on Medicare Advantage – certification, contracting, sales pitches, cross-selling tips, training, marketing, and more! Wondering who qualifies for MA plans or when you can enroll your clients? We answer those questions, and give you an AEP Ready-to-Sell Checklist, FAQs on AHIP, and info on enrolling clients online with Medicareful.
The Best Software for Tracking Your Medicare Commissions
How do you track your Medicare commissions? Want a better solution? Listen to this episode of our ASG Podcast for suggestions on tracking (and troubleshooting!) your hard-earned insurance commissions.
Prepare for AEP with the Agent Survival Guide! The Annual Enrollment Period will be here before we know it! Use our checklist to plan ahead, and you'll be "ready-to-sell" with plenty of time to spare.
The latest from Ritter's Blog:
How to Check for Your First Looks
The moment when carrier First Looks become available is a very exciting time for insurance agents! It can put a spring in your step and help you get in the mood for the upcoming Annual Enrollment Period!
2021 Maximum Broker Commissions for Medicare Advantage & Medicare Part D
Ritter has everything you need to know about 2021 maximum broker commissions for Medicare Advantage and Medicare Part D initial enrollments. Note: Insurance providers are NOT REQUIRED to pay the maximum commission rate.
Reassuring Clients During Difficult Times
During times of uncertainty, like the COVID-19 pandemic, it is likely that your clients will look to you for reassurance, and answers. Are you prepared to provide the support they are seeking?
Subscribe & Follow:
Connect on social: