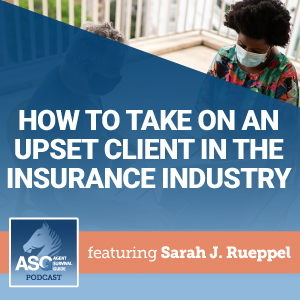 What do you when your client is upset because of how another insurance agent treated them? Get tips on how to turn that past, negative experience into a positive, and a loyal client. 
Mentioned in this episode:
Do Consumers Trust Their Agents?
How Fine Print Ruins Customer Experience
Medicareful – Learn more about the tool from Ritter Insurance Marketing
Should Business Leaders Apologize? Why, When, and How an Apology Matters
YouGov Study – Trust in Insurance
More episodes you'll like:
Building Client Loyalty: More Than Just a Plan
Learn how to build a book of business that's filled with loyal clients! These strategies are easy to implement and effective!
Tips on Working with a Difficult Client
Ever have a difficult client? Check out our tips on how to work through three frustrating (but common!) situations insurance agents face in the field. We've got some advice on when to walk away, too.
Keys to Client Retention: Digital Communication
Improving your digital communication skills can benefit your business, but where do you start? Use the tips and resources outlined in this episode of the ASG Podcast!
How Client Retention Boosts Insurance Sales
Master the art of treating your client as the renewal, not their policy. Learn why building relationships with your current clients is more beneficial (and cost effective!) than courting new ones.
Reassuring Clients During Difficult Times
How are your clients doing? Do they have questions about COVID-19 and Medicare? Have you reached out? Have they? If you're not sure what to say, or even where to start, we've got some suggestions in this episode. (And they're easy to implement, too!)
Articles to Share with Your Clients:
Recharging After a Bad Night's Sleep
Have you ever woken up after a night of tossing and turning, begging for more sleep? Here are a few ways you can recover after a bad night's sleep!
Cooking for Beginners: Cutting Board Safety
Cutting boards are extremely useful tools in the kitchen, especially for protecting your countertops. For that reason, cutting board safety is equally important so you don't accidentally hurt yourself or get sick!
Does Medicare Cover COVID Testing?
Does Medicare cover COVID testing? It's an important question to be answered, since testing can give you peace of mind and help slow the spread of the pandemic.
The latest from Ritter's Blog:
What to Do If Your Clients Can No Longer Afford Their Permanent Life Insurance Premiums
Are your clients struggling to pay their permanent life insurance premiums? They have options other than letting their policies lapse! Here's how you can help them salvage their benefits.
Medicareful 2020 Year-in-Review: Here's What We Accomplished
Selling Medicare plans? You've probably heard of Medicareful. We're reviewing what this free Medicare quoting software helped agents accomplish in 2020 and how it set itself apart from other online Medicare sales tools!
In the insurance industry, leads are what sustain your business. Of course, you need the contracts, training, and other skills to be a successful insurance agent, but without leads, you'll just be spinning your wheels.
Subscribe & Follow:
Connect on social: