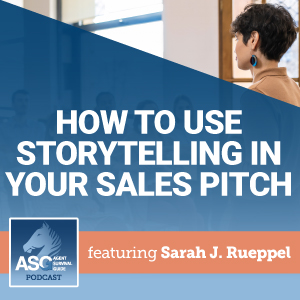 Could your sales pitch use some work? Learn how to transform a lackluster insurance presentation with storytelling!
Mentioned in this episode:
5 Steps to Telling a Better Story in Your Next Sales Presentation
6 Ways to Use Storytelling to Enhance Your Pitch
The Art of Immersion: Why Do We Tell Stories?
The Neuroscience Behind Storytelling in Sales
The Science of Storytelling: Why We Love Stories
Why Storytelling is Essential to Sales
More episodes you'll like:
December 18, 2020 | The Friday Five
The Friday Five for December 18, 2020: The COVID-19 Vaccine Arrives, COVID-19 Vaccine Scams and Misinformation, Google's Year in Search Trends 2020, Netflix to Unveil Audio-Only Mode, and Top 10 New Business Books in 2020.
How Client Retention Boosts Insurance Sales
Master the art of treating your client as the renewal, not their policy. Learn why building relationships with your current clients is more beneficial (and cost effective!) than courting new ones.
Keys to Client Retention: Digital Communication
Improving your digital communication skills can benefit your business, but where do you start? Use the tips and resources outlined in this episode of the ASG Podcast!
Ritter Can Help You Stay in Touch With Your Clients
Client retention starts with outreach, but if you're not sure how to do that, we've got you covered. Listen to get four ways to reach out and the details on some FREE templates you'll want to get your hands on!
Why Client Retention Should Be Your Top Priority
Discover how to keep existing clients coming back for more. Our strategy includes practical steps you can easily implement into your business.
Articles to Share with Your Clients:
Does Medicare Cover COVID Testing?
Does Medicare cover COVID testing? It's an important question to be answered, since testing can give you peace of mind and help slow the spread of the pandemic.
Safe Ways to Celebrate Christmas During the COVID Pandemic
Looking for ways to celebrate Christmas during the COVID pandemic? It's possible, but we have to be smart and still follow the guidelines. Here's how.
The Coverage Rules for Medicare Part D Plans
You've come to rely on your Medicare Part D plan to give you coverage for your prescription drugs, but there are rules that govern this coverage and its limits. What are they?
The latest from Ritter's Blog:
Does Your Medicare Sales Approach Satisfy Different Budgets?
We all know the saying, "money doesn't grow on trees." Many people have limited incomes, but you can help them with budgeting for a Medicare plan to afford the health care they may need.
In the insurance industry, leads are what sustain your business. Of course, you need the contracts, training, and other skills to be a successful insurance agent, but without leads, you'll just be spinning your wheels.
What is AHIP Certification and How Do I Get It?
You have your leads in hand and your contracts signed, so you're ready to sell, right? Well… almost. Did you complete your AHIP certification yet?
Subscribe & Follow:
Connect on social: