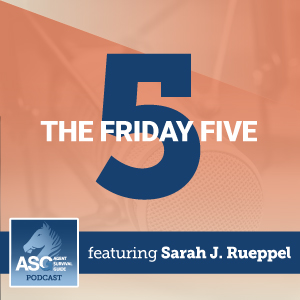 We're kicking off the first Friday Five episode of 2021 with podcast recommendations! Here are five podcasts that our host, Sarah is currently listening to. 🎧
Mentioned in this episode:
What Happened to the Amber Room?
California City – Start with How I Found Out About California City
The Leviathan Chronicles – Start with Evil Undertow
Remy's Life Interrupted – Start with EP1
Cabbage Patch Kids: Must-Have Toy of the Century
Porcupines: Little Stabby Cutie Pies
Short Stuff: How Eyes In a Painting Follow You
Short Stuff: Plastic Pink Flamingos
More episodes you'll like:
Top 5 Podcasts of 2020 | The Friday Five
We don't just make a podcast, we love listening to them, too! Despite 2020 effectively cancelling her commute, our host Sarah listened to over 7,000 minutes of podcast audio. Which shows made it into her top 5 for 2020? Listen to find out in this bonus Friday Five episode!
How to Successfully Set SMART Goals
New year... new goals! Are your 2021 business goals SMART? Learn how this strategy can help your insurance business boom in the new year. Our goal? To help you do it.
How to Use Storytelling in Your Sales Pitch
Could your sales pitch use some work? Learn how to transform a lackluster insurance presentation with storytelling!
International Podcast Day 2020
Happy International Podcast Day! 2020 has certainly been a year to, er, remember. There's a lot of that reflected in this year's episode. But there's also a fair bit of fun. Sarah shares it all in this episode – podcast recommendations, standout episodes, updates, bonus content, and more, including what makes her want to listen.
Podcast Recommendations for Summer 2020
Summer is here! 🌞 That means it's time for MORE podcast recommendations! If you need something to listen to during a long drive, while you're on a vacation, staycation, or just walking around the neighborhood after dinner… Sarah has 10 new podcast recommendations for your listening enjoyment.
Articles to Share with Your Clients:
4 Secrets to Keeping Your New Year's Resolution
This year, our New Year's resolution is to help you keep yours! Here are the four secrets to keeping your New Year's resolution.
Healthy Hacks for Your Favorite Snacks: New Year's Eve
New Year's Eve is getting near, and with it, parties. Ring in the New Year without busting your diet with these healthy New Year's dishes.
Reading as a hobby is sadly shrinking in the United States. This year, crack open more books than ever before with these tips.
The latest from Ritter's Blog:
Does Your Medicare Sales Approach Satisfy Different Budgets?
We all know the saying, "money doesn't grow on trees." Many people have limited incomes, but you can help them with budgeting for a Medicare plan to afford the health care they may need.
In the insurance industry, leads are what sustain your business. Of course, you need the contracts, training, and other skills to be a successful insurance agent, but without leads, you'll just be spinning your wheels.
What is AHIP Certification and How Do I Get It?
You have your leads in hand and your contracts signed, so you're ready to sell, right? Well… almost. Did you complete your AHIP certification yet?
Subscribe & Follow:
Connect on social: