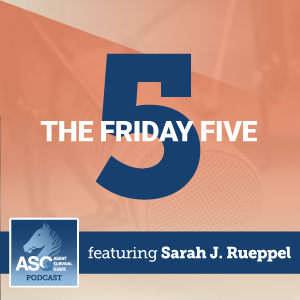 The Friday Five for January 10, 2020:
Governor Cuomo's State of the State
Medicaid concerns in NY
Study finds Medicaid expansion leads to better health
End-of-year spending bill revisited
CES 2020
Mentioned in this episode:
Health industry racks up wins in year-end spending deal
Marijuana Will Be legalized in New York in 2020, Cuomo Vows
Medicaid Expansion Tied to Better Mental Health, Physical Health in the South
State of the State to highlight health policies
More episodes you'll like:
5 Myths About Selling Medicare… Debunked!
If you're on the fence about selling Medicare, this episode is for you! Don't let these myths hold you back from selling Medicare! The senior health insurance market is booming — and there's plenty of room for more agents… like you!
January 3, 2020 | The Friday Five (SMART Goals)
No resolutions here, but we are talking goals. Specifically, SMART goals and how to get your insurance business set for success in 2020.
Value-Based Care for Medicare Enrollees is the Future
What is Medicare's Value-Based Care Model? Our team takes a deep dive into this topic, defining the care model that CMS adopted in 2011. Learn the types of value-based care programs CMS offers, how they can help you sell insurance plans, what this kind of care looks like for your clients, and carriers' value-based care initiatives. We even talk about what your clients can expect in the future!
The latest from Agent Survival Guide:
Dual Eligible Special Needs Plans are a great product to add to your portfolio, especially since 12 million Americans (20 percent of the Medicare population) have dual-eligible status. While we think selling...(read more)
The Beginner's Guide to C-SNPs
Have you ever considered selling Chronic Condition Special Needs Plans (C-SNPs)? Yes or no, we've got the quick guide that you need to read! C-SNPs can allow health insurance agents to keep...(read more)
How to Transition from AEP to D-SNPs
The lock-in period is approaching, but just because it's not the "busy season," doesn't mean you can't stay busy! You can keep sales and commission coming in by shifting your focus from...(read more)
Subscribe & Follow:
Connect on social: