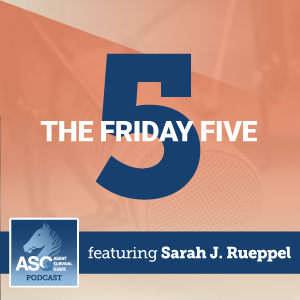 The Friday Five for January 17, 2020:
Oscar & Cigna Teaming Up
Screening Kids for Toxic Stress in CA
Smart Contact Lenses
Sweethearts Are BACK!
Our Newest FREE eBook – Now Available for Download!
Mentioned in this episode:
5 Things to Know As California Starts Screening Children For Toxic Stress
America's favorite Valentine's Day candy is back, but not without a few hiccups
Developing an Agency – Your Guide to Getting Started
Cigna, Oscar to team up on small-business health plans
Starting Your Own Insurance Agency featuring Craig Ritter and Dave Dietz
The Display of the Future Might Be in Your Contact Lens
More episodes you'll like:
5 Major Things to Expect in the Medicare Advantage Market for 2020
What's new in the Medicare Advantage market for 2020? The ASG Podcast has the scoop on what you can expect in the coming year, including new MA carriers!
An Introduction to Social Media for Insurance Agents
Not sure where to start on social media? The Agent Survival Guide team has you covered! Learn more about why this tool is so essential to your insurance business marketing strategy.
Starting Your Own Insurance Agency featuring Craig Ritter and Dave Dietz
What does it really take to create your own insurance agency? We sat down with Craig Ritter, President and Owner of Ritter Insurance Marketing, and Dave Dietz, Senior Vice President of Marketing at Ritter, to pick their brains on the subject. These are just some of the questions they answer: When do I create an LLC? What qualities do I look for in downline agents? Should I follow the 80/20 rule? Listen now for the answers to these questions and more!
The Beginner's Guide to D-SNPs
What is a Dual Eligible Special Needs Plan? How do you sell it? Where do you find dual-eligible prospects? Our D-SNP primer answers these questions and more!
Value-Based Care for Medicare Enrollees Is the Future
What is Medicare's Value-Based Care Model? Our team takes a deep dive into this topic, defining the care model that CMS adopted in 2011. Learn the types of value-based care programs CMS offers, how they can help you sell insurance plans, what this kind of care looks like for your clients, and carriers' value-based care initiatives. We even talk about what your clients can expect in the future!
The latest from Agent Survival Guide:
Pros and Cons of Having an Office Space Outside of Your Home
Having a designated space to work and be productive is essential for independent insurance agents. There are going to be advantages and disadvantages with deciding whether or not to acquire an office...(read more)
What is E&O Insurance and Do You Need It?
Mistakes happen, even to the best of us. Fortunately, errors and omissions (E&O) insurance can help you mitigate the risks and costs that come with your profession. The insurance for those who...(read more)
Dual Eligible Special Needs Plans are a great product to add to your portfolio, especially since 12 million Americans (20 percent of the Medicare population) have dual-eligible status. While we think selling...(read more)
Subscribe & Follow:
Connect on social: