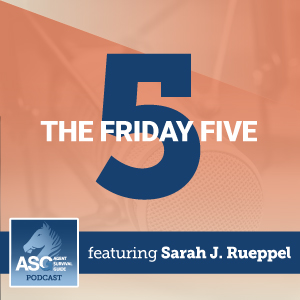 The Friday Five for January 8, 2021:
Centene acquires Magellan Health
Haven Healthcare is no more
KFF COVID-19 Medicare Cost and Coverage FAQs
Think Advisor Industry Predictions for 2021
Stimulus Relief Payment Issues & Recent Package Details
Mentioned in this episode:
5 Predictions for Life and Health Insurers for 2021
Buried in Pandemic Aid Bill: Billions to Soothe the Richest
Centene Is Climbing on Its Plans to Buy Magellan Health for $2.2 Billion
Centene to acquire Magellan Health in $2.2B deal
FAQs on Medicare Coverage and Costs Related to COVID-19 Testing and Treatment
Goodbye, Haven: The benefits industry reacts
Haven, the Amazon-Berkshire-JPMorgan venture to disrupt health care is disbanding after 3 years
Jeff Bezo, Jamie Dimon and Warren Buffett tried to solve health care. 3 years later, their company has shut down
Ritter and Carrier Operations During the COVID-19 Pandemic
'Status Not Available:' IRS says these taxpayers won't receive second stimulus check automatically
The Second Stimulus Package: Here's What's Included
What's New on Netflix, Amazon, Hulu, Disney+, and More in January 2021
More episodes you'll like:
Podcasts We're Currently Listening To (Winter 2021) | The Friday Five
We're kicking off the first Friday Five episode of 2021 with podcast recommendations! Here are five podcasts that our host, Sarah is currently listening to. 🎧
FMO vs. IMO vs. NMO vs. MGA vs. GA – What's the Difference?
We've got a lot of jargon to keep up with in the insurance industry. In this episode, we're going to unpack the acronyms for the types of individuals and organizations that exist in the industry to help you make your some of your business decisions a whole lot easier.
How to Successfully Set SMART Goals
New year... new goals! Are your 2021 business goals SMART? Learn how this strategy can help your insurance business boom in the new year. Our goal? To help you do it.
Articles to Share with Your Clients:
Cooking for Beginners: Cutting Board Safety
Cutting boards are extremely useful tools in the kitchen, especially for protecting your countertops. For that reason, cutting board safety is equally important so you don't accidentally hurt yourself or get sick!
Does Medicare Cover COVID Testing?
Does Medicare cover COVID testing? It's an important question to be answered, since testing can give you peace of mind and help slow the spread of the pandemic.
How Do Medicare Agents Make Money?
Trust is essential in any relationship. Learning how a Medicare agent makes their money is a great way to build trust between you and your agent.
The latest from Ritter's Blog:
What to Do If Your Clients Can No Longer Afford Their Permanent Life Insurance Premiums
Are your clients struggling to pay their permanent life insurance premiums? They have options other than letting their policies lapse! Here's how you can help them salvage their benefits.
How to Take on an Upset Client in the Insurance Industry
At least once in your sales career, you may meet an insurance client who had a negative experience with another agent, plan, or insurance in general. While these bad experiences were out of your control, you have the ability to make their next experience a positive one!
Medicareful 2020 Year-in_Review: Here's What We Accomplished
Selling Medicare plans? You've probably heard of Medicareful. We're reviewing what this free Medicare quoting software helped agents accomplish in 2020 and how it set itself apart from other online Medicare sales tools!
Subscribe & Follow:
Connect on social: