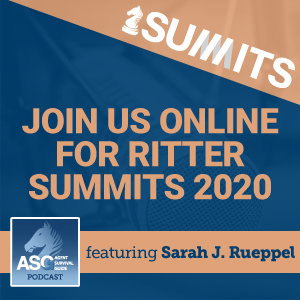 You're invited to Ritter Insurance Marketing's Virtual Summits! We're kicking off AEP 2021 with nine Summits for insurance agents! These Summits are interactive, tailored to your local markets, and you'll be able to chat with our staff and the carriers we work with! During these online presentations, our carriers will reveal exclusive first looks for Medicare Advantage and Medicare Part D products, too. You don't want to miss this AEP insurance training… Register today!
More episodes you'll like:
2021 Medicare Advantage and Part D Certification Info
Looking for 2021 Medicare Advantage and Medicare Part D agent certification and product training details? Find out how to get carrier AHIP, Medicare Advantage certification, Part D certification, and product training details in one convenient place!
AHIP Test Tips & Tricks for Medicare Certification
Learn the rules for taking the AHIP test, information on discounts and reimbursement, how to prepare yourself, test-taking tips, legit tech hacks, and more! Before you begin your first attempt at AHIP certification, be sure to listen to this ASG Podcast episode!
FAQs About NAHU Medicare Certification
Got questions about NAHU's Medicare Advantage and Part D certification training? We've got answers! In this episode, we talk about the cost of NAHU certification, CE credits, training module topics, and more – you don't want to miss it!!! 
Ready to Join an FMO? 10 Things to Consider
Thinking about partnering with an FMO? Wondering how you can tell the good from the bad? Our top 10 list outlines what you need to know before you partner with a field marketing organization.
Prepare for AEP with the Agent Survival Guide! The Annual Enrollment Period will be here before we know it! Use our checklist to plan ahead, and you'll be "ready-to-sell" with plenty of time to spare.
The latest from Ritter's Blog:
2021 Maximum Broker Commissions for Medicare Advantage & Medicare Part D
Ritter has everything you need to know about 2021 maximum broker commissions for Medicare Advantage and Medicare Part D initial enrollments. Note: Insurance providers are NOT REQUIRED to pay the maximum commission rate.
Ritter and Carrier Operations During the COVID-19 Pandemic
The COVID-19 virus has effectively changed the way the United States operates for the foreseeable future. A compilation of information from the carriers Ritter supports regarding their capacity to continue operations during the COVID-19 pandemic.
Here Are the Medicare Out-of-Pocket Expenses That Cost Beneficiaries Most
Do you know what your Medicare clients likely spend the most money on out of pocket? Do your clients know what out-of-pocket costs they can expect with Medicare? The stats are in!
Subscribe & Follow:
Connect on social: