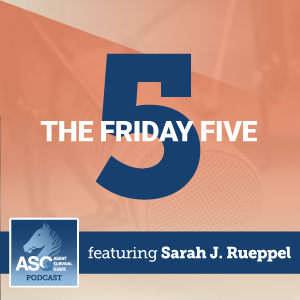 The Friday Five for July 10, 2020:
CMS Proposed Rule on End-Stage Renal Disease (ESRD) Prospective Payment System (PPS)
AHIP's State of Medigap 2020
Capital Rx teaming up with Walmart
Walmart debuts Walmart Insurance Services, LLC
Walgreens and VillageMD announce partnership
Mentioned in this episode:
CMS Proposes Medicare Payment Changes to Support Innovation and Increased Access for Dialysis in the Home Setting
Capital Rx Announces Collaboration with Walmart to Expand Prescription Drug Cost Savings
End Stage Renal Disease (ESRD) Prospective Payment System (PPS) Calendar Year (CY) 2021 Proposed Rule (CMS-1732-P) Fact Sheet
How to know what sunscreen you should wear on your face, and what's better for your body, according to dermatologists
Startup PRM Capital Rx, Walmart partner to shed light on specialty, mail-order drug prices
Supplement Coverage Two Times Less Likely to Have Problems Paying Medical Bills
The 23 Best Sunscreens for Your Face, According to Allure Editors
Walgreens opening doctor offices at hundreds of drugstores
Walmart confirms a new avatar – it's also a health insurance agency
Walmart quietly registers insurance business in its latest move into health care
More episodes you'll like:
July 3, 2020 | The Friday Five
The Friday Five for July 3, 2020: HHS and the COVID-19 Public Health Emergency; Anthem releases update to Alexa Skill; CVS launches platform to aid reopening efforts; How to cope with stress and anxiety right now; and Changes to Google Photos back up process.
3 Ways to Calculate Your Clients' Life Insurance Needs
How do you calculate the amount of life insurance your client needs? We outline three methods insurance agents can use to find the right amount of coverage.
4 No-Good Reasons Why insurance Agents Quit
Ever want to just throw in the towel and stop being an insurance agent? We've been there! But, before you do anything you might regret, listen to this episode.
The latest from Ritter's Blog:
How You Can Sell Insurance in Your State During COVID-19
We've gathered information regarding your state's stance on in-person sales during the COVID-19 pandemic, as well as information about applying for unemployment benefits as a self-employed worker.
Identifying Ideal Clients for LTCi
Who typically purchases long-term care insurance (LTCi) policies? We've got your answer. To help you identify ideal clients for LTC insurance policies, we've created a profile containing the characteristics of a conventional LTCi buyer.
Whether it's your first time or your fifth, completing the annual AHIP certification is important for licensed insurance agents selling Medicare plans. We answer some frequently asked questions about AHIP certification.
Subscribe & Follow:
Connect on social: