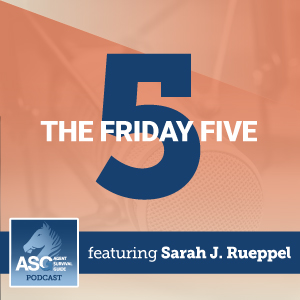 The Friday Five for July 16, 2021:
CMS names new Director of Center for Medicare
Infrastructure legislation & Medicare expansion
Amazon Care update
Inflation is still here
What to do when you can't sleep
Mentioned in this episode:
Amazon Care reportedly seeking to partner with major insurers
Biden administration feels recent inflation burst could last quarters, not months
BlackRock CEO Fink does not see inflation as transitory
CMS Announces Director of Center for Medicare
Democrats Propose $3.5 Trillion Budget to Advance With Infrastructure Deal
Good Night Stories for Rebel Girls
How To Lead In A Crisis And Come Out Stronger: An Interview With Physician-Leader Dr. Meena Seshamani
I'm Often Wide Awake at 3 A.M. How Do I Get Back to Sleep?
Inflation Is Running Hot. Treasuries Are Preparing for the Fed's First Move.
Molly of Denali – start with "S1 EP1: The Birthday Cake Thief"
Senate Democrats Announce $3.5 Trillion Infrastructure Package
Senate Democrats reveal $3.5 trillion plan to invest in health care, climate change and more
Senate Dems aim to offer dental, hearing and vision to Medicare as part of $3.5T infrastructure deal
Wall Street isn't so sure inflation will be transitory
More episodes you'll like:
July 9, 2021 | The Friday Five
Podcast Recommendations for Summer 2021
2022 Medicare Advantage and Part D Certification Info
Understanding the Details of Annuities
Articles to Share with Your Clients:
Medicare on the Go: How My Plan Works on Vacation
Recharging After a Bad Night's Sleep
Traveling During the COVID-19 Pandemic
Ritter Insurance Marketing eBooks & Guides:
Agent Survival Kits: Beginners or Experts
Modern Medicare Marketing for Today's Agents
The Complete Guide to Client Loyalty and Retention
The latest from Ritter's Blog:
3 Benefits of Contracting to Sell Medicare Advantage Plans Outside of AEP
AHIP Test Tips and Tricks for Medicare Certification
FAQs About NAHU Medicare Certification
Subscribe & Follow:
Connect on social: