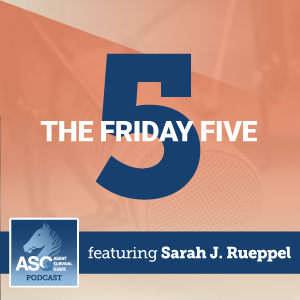 The Friday Five for July 24, 2020:
Six Months of COVID-19
WFH Productivity Tips
Windows 10 Hacks
Built To Last Branding Conference
Diamond Wars
Mentioned in this episode:
Built To Last – Branding Audio Conference from Buffer & Wistia
Business Wars by Wondery – Diamond Wars | The Diamond Rush | 1
Coronavirus: What I learnt in Oxford's vaccine trial
Diamonds: Articles of Interest #11 by Avery Trufleman and 99% Invisible
Endless Thread by WBUR and Reddit – Encore: We Want Plates + Pile Of Crockery
Floodlines By The Atlantic
Here's what we've learned in six months of COVID-19 – and what we still don't know
How to Stay Productive When the World Is on Fire
Monster or Machine? A Profile of the Coronavirus at 6 Months
Register to Attend Ritter Summits
Six months on, the coronavirus remains a mystery
Windows 10 hacks: 11 hidden tricks to master now
More episodes you'll like:
How to Market Yourself Effectively
Not sure where to start when it comes to marketing yourself or your insurance business? Need to refresh your current marketing strategy? Listen to our marketing tips for insurance agents in this episode of our ASG Podcast.
Build Your Brand with Community Involvement
Connect with your local community and grow your insurance business at the same time! Use our helpful tips to get started.
5 Tips for Creating Your Own Personal Brand
Branding yourself sets your insurance business apart from the competition. Check out our tips before you begin developing your personal brand.
July 17, 2020 | The Friday Five
The Friday Five for July 17, 2020: Aetna and Give an Hour partnership; Oak Street Health News; Possibility for Medicare Expansion in Next Covid-19 Stimulus; Zoom Announces New Product; Register for Ritter's Summits!
You're Invited to Ritter's Virtual Summits
You're invited to our virtual Summits! We're kicking off AEP 2021 with nine Summits for insurance agents! You'll get a chance to meet our staff and the carriers we work with! During these online presentations, our carriers will reveal exclusive first looks for Medicare Advantage and Medicare Part D products. It's the AEP insurance training you don't want to miss…  Register today!
The latest from Ritter's Blog:
Tips for Becoming a Top-Producing Insurance Agency
Becoming a top producing agency isn't something that happens overnight. It will take work and maybe a bit of trial and error to see what will work best for your business and sales flow.
FAQs About NAHU Medicare Certification
Got questions about NAHU's Medicare Advantage and Part D certification training? We've got answers!
NEW: NAHU 2021 Medicare Certification Training
New this year, NAHU is offering a Medicare certification training for agents who'd like to sell 2021 Medicare Advantage and Part D products for the Annual Enrollment Period.
Subscribe & Follow:
Connect on social: