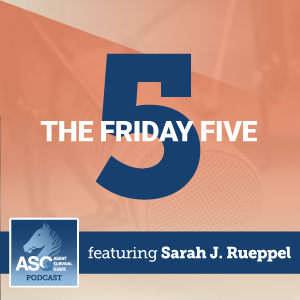 The Friday Five for July 3, 2020:
HHS and the COVID-19 Public Health Emergency
Anthem releases update to Alexa Skill
CVS launches platform to aid reopening efforts
How to cope with stress and anxiety right now
Changes to Google Photos back up process
Mentioned in this episode:
American Red Cross launches stress-management virtual resiliency workshop for Military coping during COVID-19
Anthem customers can now ask Alexa about their health plan benefits
CDC Coronavirus: Coping with Stress
CVS Health helps Americans return to worksites and campuses with comprehensive COVID-19 testing solution
CVS launching platform to help employers, universities safely reopen amid COVID-19
Coping with COVID stress: From pandemic brain fog to resilience
Everything Coming to Netflix, Disney+, HBO Max, Hulu & Amazon Prime Video in July 2020
Google Photos will no longer back up images from WhatsApp, Messages, Kik, and other messaging apps by default
HHS will renew public health emergency
How Covid-19 is changing women's lives
How to cope with financial stress and anxiety during troubling times
Monthly Telehealth Regional Tracker
More than 300 organizations, physicians groups push Congress to take action on telehealth policies
More episodes you'll like:
June 26, 2020 | The Friday Five
New York, New Jersey, and Connecticut Announce COVID-19 Travel Restrictions; Impact of COVID-19 on Medicare Beneficiaries; Hospital Price Transparency Ruling; J.D. Power Medicare Advantage Study and Communication, and Highlights from Apple's Worldwide Developer Conference Keynote (WWDC20)
Podcast Recommendations for Summer 2020 | The Tuesday Ten
Summer is here! 🌞 That means it's time for MORE podcast recommendations! If you need something to listen to during a long drive, while you're on a vacation, staycation, or just walking around the neighborhood after dinner… Sarah has 10 new podcast recommendations for your listening enjoyment.
4 No-Good Reasons Why Insurance Agents Quit
Ever want to just throw in the towel and stop being an insurance agent? We've been there! But, before you do anything you might regret, listen to this episode.
The latest from Ritter's Blog:
Identifying Ideal Clients for LTCi
Who typically purchases long-term care insurance (LTCi) policies? When you sell non-primary forms of coverage, such as LTC insurance, it's critical you develop a clear image of what qualified prospects will look like. To help you identify ideal clients for LTCi policies, we've created a profile containing the characteristics of a conventional LTCi buyer.
Whether it's your first time or your fifth, completing the annual AHIP certification is important for licensed insurance agents selling Medicare plans. We answer some frequently asked questions about AHIP certification.
How You Can Sell Insurance in Your State During COVID-19
We've gathered information regarding your state's stance on in-person sales during the COVID-19 pandemic, as well as information about applying for unemployment benefits as a self-employed worker.
Subscribe & Follow:
Connect on social: