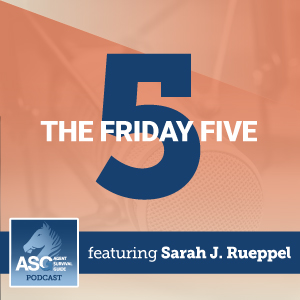 The Friday Five for July 9, 2021:
Medicare DVH Expansion
HHS & Surprise Medical Bills
Summer Reading for Advisors
Breathing Exercises to Lower Blood Pressure?
Shrinkflation
Mentioned in this episode:
HHS Announces Rule to Protect Consumers from Surprise Medical Bills
5-Minute Daily Breathing Exercise May Equal Meds in Lowering Blood Pressure
10 Books Advisors Should Read This Summer
Baked Feta 'TikTok Pasta': We Need To Talk About Where It Really Came From
Beware Of 'Shrinkflation,' Inflation's Devious Cousin
Endless Thread – "Shrinkflation"
First rules to protect patients from unexpected medical bills issued by agencies
Most surprise medical bills to end under new rule
No Surprises Act Regs Leave Out Broker Comp Disclosure Regs
One way companies are concealing higher prices: Smaller packages
The Health 202: Expansions could be coming to Medicare
More episodes you'll like:
July 2, 2021 | The Friday Five
The Friday Five for July 2, 2021: third installment of CMS Proposed Rule 2022, update on attempts to add DVH to Medicare, Walmart & Novo Nordisk partner in new effort, how to take a mental health day, and how to block and report text spam.
Largest COLA In a Decade Projected & How It Affects Part B Premiums
What does the annual Cost of Living Adjustment (COLA) look like for 2022? Does the COLA impact Medicare Part B premiums? What about inflation, and Social Security Income? We cover it all in this info-packed episode!
Podcast Recommendations for Summer 2021
Did someone say Summer 2021 Podcast Recommendations? Back by popular demand, Sarah has 10 more podcast recommendations to fill the void in your Summer vacation. Whether you're taking a family vacation, staycation, traveling back into the office, or just need something new to listen to, we've got you covered! 🌞😎🎧
Articles to Share with Your Clients:
Dishes to Impress Your Friends: Steak Frites
You may connect steak and fries with an essential bit of Americana, but it's also a favorite in classic French cuisine. Take your steak game up a notch with a delicious homemade steak frites recipe, complete with a decadent bearnaise sauce!
Limiting Charges and Excess Charges in Medicare
Limiting charges and excess charges are connected concepts with Medicare, but the link can be confusing. What are they and how do they affect your costs in Medicare?
The National Park Senior Pass: Lifetime Access to America the Beautiful
The National Parks are the crown jewels of the United States. With the National Park Senior Pass, seeing them all is even easier!
Ritter Insurance Marketing eBooks & Guides:
Agent Survival Kits: Beginners or Experts
Social Media Marketing for Insurance Agents
The Complete Guide to Client Loyalty and Retention
The latest from Ritter's Blog:
How Does a Hospital Indemnity Plan Work with Medicare? A Case Study
Meet Grace — a 65-year-old woman with a Medicare Advantage plan. Though her plan is great, it leaves her with a copay of $250 per day for the first five days of an inpatient hospital stay. Should you recommend that she buy a hospital indemnity plan?
FAQs About NAHU Medicare Certification
Got questions about NAHU's Medicare Advantage and Part D certification training? We've got answers!
AHIP Test Tips and Tricks for Medicare Certification
Planning on taking the AHIP Medicare training test for the first time? You don't have to stress! We've put together a list of tips and tricks for passing AHIP that will help you, and even more experienced agents, improve your chances of getting AHIP certified on the first try!
Subscribe & Follow:
Connect on social: