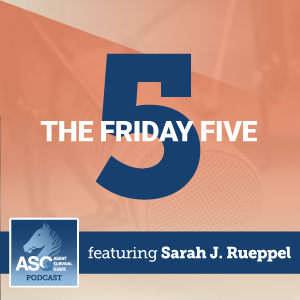 The Friday Five for June 12, 2020:
The Cost of Treating COVID-19
Coronavirus cases on the rise in Arizona
HHS announces new data reporting protocol for COVID-19
Lemonade files for IPO
Federal Reserve Announces Interest Rate & Projections
Mentioned in this episode:
Measuring the Moment: How will George Floyd's Death Matter to the Insurance Industry?
Workforce Diversity in the Independent Agency System: 3 Steps to Change
19 states see rising coronavirus cases and Arizona is asking its hospitals to activate emergency plans
Arizona's COVID-19 spread is 'alarming' and action is needed, experts warn
COVID-19 Cost Scenario Modeling: Treatment
COVID-19 could cost insurers up to $547B through 2021: report
Fed sees interest rates staying near zero through 2022, GDP bouncing to 5% next year
HHS Announces New Laboratory Data Reporting Guidance for COVID-19 Testing
How You Can Sell Insurance In Your State During COVID-19
Lemonade Files for IPO, Says It May Sell Life Insurance
Ritter and Carrier Operations During the COVID-19 Pandemic
More episodes you'll like:
4 Perks of Being a Part-Time Insurance Agent
Thinking about joining the ranks of insurance agents selling Medicare for a living? Not really sure if becoming a senior health insurance agent is the right career path for you? We get it! What if you could give it a practice run before giving up your full-time job? In this episode of the ASG Podcast, we discuss the benefits of starting out as a part-time insurance agent.
June 5, 2020 | The Friday Five
The Friday Five for June 5, 2020: Getting Back to Preventive Care - What it looks like; CVS partners with Nuro; Google Sued for $5 Billion; Save the Dates - Ritter Summits Coming Soon; and New Medicare Advantage Sales eBook Available.
Prepare for AEP with the Agent Survival Guide! The Annual Enrollment Period will be here before we know it! Use our checklist to plan ahead, and you'll be "ready-to-sell" with plenty of time to spare.
The latest from Ritter's Blog:
How to Check for Your First Looks
The moment when carrier First Looks become available is a very exciting time for insurance agents! It can put a spring in your step and help you get in the mood for the upcoming Annual Enrollment Period!
2021 Maximum Broker Commissions for Medicare Advantage & Medicare Part D
Ritter has everything you need to know about 2021 maximum broker commissions for Medicare Advantage and Medicare Part D initial enrollments. Note: Insurance providers are NOT REQUIRED to pay the maximum commission rate.
Reassuring Clients During Difficult Times
During times of uncertainty, like the COVID-19 pandemic, it is likely that your clients will look to you for reassurance, and answers. Are you prepared to provide the support they are seeking?
Subscribe & Follow:
Connect on social: