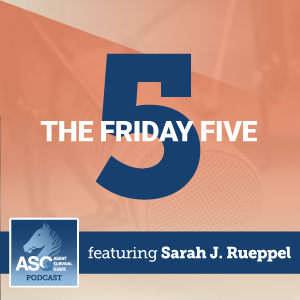 The Friday Five for June 26, 2020:
New York, New Jersey, and Connecticut Announce COVID-19 Travel Restrictions
What's the Impact of COVID-19 on Medicare Beneficiaries?
Hospital Price Transparency Ruling
J.D. Power Medicare Advantage Study and Communication
Highlights from Apple's Worldwide Developer Conference Keynote (WWDC20)
Mentioned in this episode:
Apple reimagines the iPhone experience with iOS 14

Hospitals Sued to Keep Prices Secret. They Lost.

In blow to hospitals, judge rules for HHS in price transparency case

J.D. Power gives Medicare Advantage plans bad marks on communicating with members

Keys to Client Retention: Digital Communication

Keys to Client Retention: Face-to-Face Communication

Medicare Advantage Plans Struggle to Communicate Effectively with Members, J.D. Power Finds

New York, New Jersey and Connecticut impose 14-day quarantine on travelers from coronavirus hotspot states

Preliminary Medicare COVID-19 Data Snapshot

Trump Administration Issues Call to Action Based on New Data Detailing COVID-19 Impacts on Medicare Beneficiaries

White House wins ruling on health care price disclosure

WWDC 2020 Special Event Keynote – Apple

WWDC Power Up Playlist on Apple Music

WWDC Power Up Playlist on Spotify
More episodes you'll like:
June 19, 2020 | The Friday Five
The Friday Five for June 19, 2020: AHIP 2021 Certification Reminder; HealthNow and Highmark Affiliation Agreement; Possible New Link Between COVID-19 and Diabetes; Face Masks and Skin Care; Drug Found to Reduce Death in Worst COVID-19 Cases
AHIP Test Tips & Tricks for Medicare Certification
Learn the rules for taking the AHIP test, information on discounts and reimbursement, how to prepare yourself, test-taking tips, legit tech hacks, and more! Before you begin your first attempt at AHIP certification, be sure to listen to this ASG Podcast episode!
Podcast Recommendations for Summer 2020 | The Tuesday Ten
Summer is here! 🌞 That means it's time for MORE podcast recommendations! If you need something to listen to during a long drive, while you're on a vacation, staycation, or just walking around the neighborhood after dinner… Sarah has 10 new podcast recommendations for your listening enjoyment.
The latest from Ritter's Blog:
2021 Medicare Advantage & Part D Certification Info
Medicare agent certification and product training details for 2021 are being released! Luckily, you can find many carriers' AHIP, Medicare Advantage certification, Part D certification, and product training details in one place.
How to Check for Your First Looks
The moment when carrier First Looks become available is a very exciting time for insurance agents! It can put a spring in your step and help you get in the mood for the upcoming Annual Enrollment Period!
2021 Maximum Broker Commissions for Medicare Advantage & Medicare Part D
Ritter has everything you need to know about 2021 maximum broker commissions for Medicare Advantage and Medicare Part D initial enrollments. Note: Insurance providers are NOT REQUIRED to pay the maximum commission rate.
Subscribe & Follow:
Connect on social: