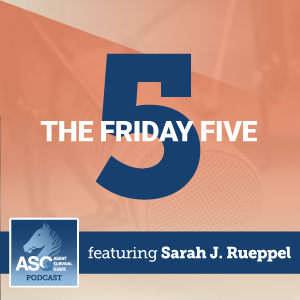 The Friday Five for June 5, 2020:
Getting Back to Preventive Care - What it looks like
CVS partners with Nuro
Google Sued for $5 Billion
Save the Dates - Ritter Summits Coming Soon
New Medicare Advantage Sales eBook Available
Mentioned in this episode:
CVS Pharmacy partners with Nuro to test self-driving vehicle prescription delivery
Everything Coming to Netflix, Disney+, HBO Max, Hulu & Amazon Prime Video in June 2020
Google sued for $5 billion over alleged privacy violations: report
Is It Safe Yet To Get Your Physical Or A Dental Checkup?
National Doughnut Day 2020: Where to get free doughnuts
Ritter's Medicare Advantage eBook – The Complete Guide on How to Sell Medicare Advantage Plans
Save the Date for Ritter's Summits!
Garden City, NY – August 25, 2020
Philadelphia, PA – August 26, 2020
Central PA – August 27, 2020
More episodes you'll like:
May 29, 2020 | The Friday Five
The Friday Five for May 29, 2020: CMS Releases Final Rule for Medicare Advantage & Part D 2021; Telehealth on the rise with consumers; CMS Announces Part D Senior Savings Model featuring affordable insulin; Apple and Google Contact Tracing API; Kaiser Permanente releases Covid-19 Playbook
How to Recruit Insurance Agents to Your Downline
Want to build a successful downline for your insurance business? Don't miss our best practices for recruiting agents to your agency! And be sure to check out the show notes for a link to grab your copy of our eBook – Developing an Agency – Your Guide to Getting Started.
Prepare for AEP with the Agent Survival Guide! The Annual Enrollment Period will be here before we know it! Use our checklist to plan ahead, and you'll be "ready-to-sell" with plenty of time to spare.
How to Add Technology to Your Insurance Business
Need to bring technology into your business? Not sure where to begin? Start by listening to this episode! We'll help you revamp your insurance sales process.
The Best Software for Tracking Your Medicare Commissions
How do you track your Medicare commissions? Want a better solution? Listen to this episode of our ASG Podcast for suggestions on tracking (and troubleshooting!) your hard-earned insurance commissions.
The latest from Ritter's Blog:
How to Check for Your First Looks
The moment when carrier First Looks become available is a very exciting time for insurance agents! It can put a spring in your step and help you get in the mood for the upcoming Annual Enrollment Period!
2021 Maximum Broker Commissions for Medicare Advantage & Medicare Part D
Ritter has everything you need to know about 2021 maximum broker commissions for Medicare Advantage and Medicare Part D initial enrollments. Note: Insurance providers are NOT REQUIRED to pay the maximum commission rate.
Reassuring Clients During Difficult Times
During times of uncertainty, like the COVID-19 pandemic, it is likely that your clients will look to you for reassurance, and answers. Are you prepared to provide the support they are seeking?
Subscribe & Follow:
Connect on social: