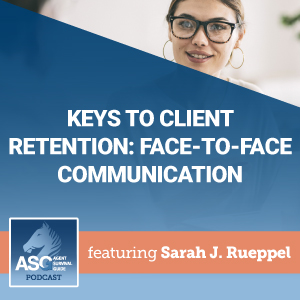 Communication can make or break your insurance sales. Keep your clients coming back for more by learning the art of face-to-face communication.
Mentioned in this Episode:
6 Benefits of Effective Communication
9 Powerful Body Language Tips to Instantly Boost Your Confidence
Active Listening: Hear What People Are Really Saying
Body Language: Picking Up and Understanding Nonverbal Signals
Building Client Loyalty: More than Just a Plan
How Client Retention Boosts Insurance Sales
In 'Sweetie' and 'Dear,' a Hurt for the Elderly
Is Nonverbal Communication a Numbers Game?
The Importance of Effective Communication
The Mistakes We Make Communicating with Elders (and How to Fix Them)
Why Client Retention Should be Your Top Priority
Why Communication Is So Important for Leaders
More episodes you'll like:
Keys to Client Retention: Digital Communication
Ritter Can Help You Stay in Touch with Your Clients
Tips on Dealing with a Difficult Client
Articles to Share with Your Clients:
Dishes to Impress Your Friends: Homemade Lobster Ravioli Recipe
Historic 2022 COLA Prediction Increases to Largest Since 1980s
Ritter Insurance Marketing eBooks & Guides:
Social Media Marketing for Insurance Agents
The Complete Guide on How to Sell Medicare Advantage Plans
The Complete Guide to Client Loyalty and Retention
The latest from Ritter's Blog:
Largest COLA Since 1983 Projected & How It Affects Part B Premiums
Medicare & Medicaid Compared: How Both Programs Benefit Insurance Agents
What Are the New Medicare Advantage & Part D Communications for 2022?
Subscribe & Follow:
Connect on social: