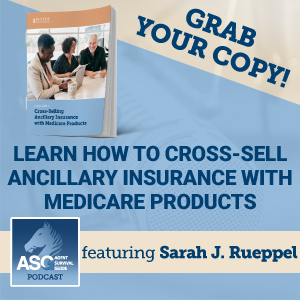 Ready to boost your Medicare business? Increase your sales commissions and improve client retention at the same time, all without additional certifications. Learn about the power of cross-selling and how you can get started today!
More episodes you'll like:
How to Cross-Sell Insurance: The Advisor Approach
Want to improve your cross-selling technique? Not sure where to start? We recommend using the advisor approach, a simple method any agent can use for insurance cross-sales.
Secure a Bigger, Better Business with Ancillary Products
Ready to branch out from Medicare Advantage or Medicare Supplement sales? Learn how ancillary products can help you expand your reach and add more value to your portfolio.
Methods to Boost Your Medicare Business
Optimize your Medicare insurance business with help from our FMO – Ritter Insurance Marketing! Our strategies generate leads and sales. Find out how you can apply these tips just in time for AEP success.
The latest from Ritter's Blog:
Each summer, Ritter Insurance Marketing hosts the annual Summits, where insurance agents can receive an exclusive first look at the next year's Medicare Advantage and Part D plan offerings. This year, we're hosting our Summits a little differently.
5 Tips for Using Medicareful to Sell More Medicare Plans
Medicareful gives agents the potential to double or triple their capacity to safely engage prospects and enroll clients! How can you maximize your site and Medicare sales? To start, request your free Medicareful page here!
Why Being a Likable Agent Is Good for Your Business
How you present yourself as an agent can make or break your business. You may think, "It doesn't matter what other people think of me," which in some ways is true. But when it comes to how people view you professionally, their opinions do matter.
Subscribe & Follow:
Connect on social: