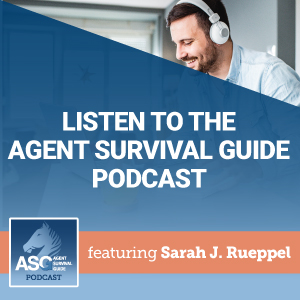 Learn more about the Agent Survival Guide Podcast. Listen and subscribe wherever you get your podcasts! The Agent Survival Guide Podcast is a production of Ritter Insurance Marketing.
More episodes you'll like:
April 3, 2020 | The Friday Five
The Friday Five for April 3, 2020: Some Good News; CARES Act stimulus checks; Mental Health Minute; Brothers Cuomo and Mom's sauce; and Girl Scouts Cookie Care.
Guiding Your Agency Through COVID-19
It's an unprecedented time. COVID-19 has shut down businesses small and large, and if you're wondering how to run your business during a pandemic, you are not alone. How can your insurance agency continue to help clients and stay productive amidst the coronavirus pandemic? We've got some insight that might help.
Internet Forums & Insurance Agents
Discover the power of forums. We unpack it all, how to get started, what you should post, etiquette rules, and more!
Medicare MSA 101 featuring Jim Handlan of Lasso Healthcare
Have questions about selling Medicare Medical Savings Accounts (MSA) Plans? This bonus episode of our ASG Podcast has your answers! We sat down with Jim Handlan, President of Lasso Healthcare, to pick his brain on all things Medicare MSA-related.
More People Working Past Age 65: What it Means for Agents Selling Medicare Plans
What does Medicare look like for your clients working past age 65? This is one of the most common questions we get from insurance agents. And we've got answers! Learn how to help clients enroll in Medicare when they plan to continue working. We'll even cover how to help a client that's already on Medicare who wants to "unretire" and rejoin the workforce! You don't want to miss this episode of our ASG Podcast!
Subscribe & Follow:
Connect on social: