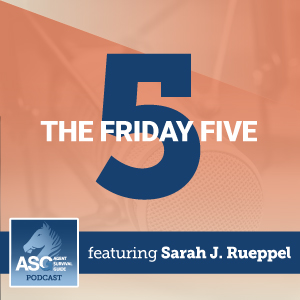 Did someone say FriYAY Five? 🥳 We're kicking off the weekend AND celebrating our host's birthday today. Sarah's another year wiser and she's got five more podcast recommendations to share!
Mentioned in this episode:
Thrilling Tales of Modern Capitalism
More episodes you'll like:
March 5, 2021 | The Friday Five
The Friday Five for March 5, 2021: KFF Analysis on Healthcare Spending Using Medicare Rates, CMS Geographic Direct Contracting Model News, PET Imaging and CMS, Rural Medicare Beneficiaries & Switching Coverage, Work From Home Allergies
International Podcast Day 2020
Happy International Podcast Day! 2020 has certainly been a year to, er, remember. There's a lot of that reflected in this year's episode. But there's also a fair bit of fun. Sarah shares it all in this episode – podcast recommendations, standout episodes, updates, bonus content, and more, including what makes her want to listen.
Podcasts We're Currently Listening To (Winter 2021) | The Friday Five
We're kicking off the first Friday Five episode of 2021 with podcast recommendations! Here are five podcasts that our host, Sarah is currently listening to.
Top 5 Podcasts of 2020 | The Friday Five
We don't just make a podcast, we love listening to them, too! Despite 2020 effectively cancelling her commute, our host Sarah listened to over 7,000 minutes of podcast audio. Which shows made it into her top 5 for 2020? Listen to find out in this bonus Friday Five episode!
Top 10 Podcast Apps | Agent Apps
Which podcast app is the best? Do you listen on the number one app or a different one? What features are you missing out on? In the premiere episode of our newest series, Agent Apps, we explore the top 10 podcast listening apps and the features that make each one unique.
Articles to Share with Your Clients:
Start Your Green Thumb with a Windowsill Garden
If you've ever wanted a garden, but don't have the space or time, you're in luck! Growing a windowsill garden can make it both easier and more convenient to have a garden.
The Truth About Expiration Dates
If you find food in the fridge that's past its Best By date, that means throw it out since it's expired, right? Let's look into the truth about Expiration Dates.
What is kefir? For something that's as easy to make or find, it's incredibly healthy — that's what it is!
The latest from Ritter's Blog:
Why Insurance Agents Fail (& How Not To!)
There are many reasons why insurance agents may "fail" or not be as successful as they originally set out to be. Let's discuss some of those obstacles, and how to overcome them!
Ritter is More Than Medicare & Our New Team Brand Shows Why
When selling Medicare Advantage and Medicare Supplement policies, it's important to remember that More than Medicare products are the missing pieces of the puzzle.
Medicare Advantage Trial Rights Explained for Agents
If you have a client who enrolled in a Medicare Advantage plan but wants to go (back) to Original Medicare, they may qualify for a Medicare Advantage trial right! This would allow them to update their coverage outside of the Annual Enrollment Period.
Subscribe & Follow:
Connect on social: