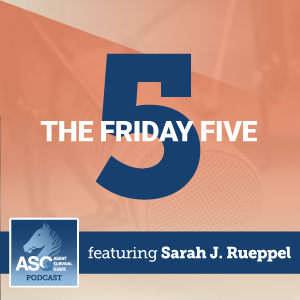 The Friday Five for March 13, 2020:
CVS Pharmacy Drops Delivery Fees During Coronavirus Outbreak
Coronavirus Q&A from CNN
Jack Dorsey still CEO of Twitter
Oil Wars and Gas Prices
PepsiCo buys Rockstar Energy
Mentioned in this episode:
8 of your latest coronavirus questions, answered
Business Wars: Starbucks vs. Dunkin – A Steamy Culture Clash | 1
Business Wars: Netflix vs. Blockbuster Revisited – Sudden Death | 1
Business Wars: Coke vs. Pepsi – Cocaine is King | 1
CVS Pharmacy offering free prescription delivery during outbreak
Dunkin' Is Giving Away Free Donuts Every Friday of March
Jack Dorsey bought himself more time as Twitter CEO, but it might not matter
Jack Dorsey's Reprieve as Twitter CEO May Not Last
'Oil price war,' coronavirus could drive gas prices below $2 gallon
PepsiCo to acquire energy drink maker Rockstar Energy in a $3.85 billion deal
Ritter and Carrier Operations During the COVID-19 Pandemic
Starbucks Spring Menu Dropped Today And It Includes A Matcha Coconut Milk Drink And Egg Wraps
White House likely to pursue federal aid for shale companies hit by oil shock, coronavirus downturn
More episodes you'll like:
Final Expense Insurance Sales Opportunities You May Be Missing
There's more to final expense insurance than you may think — it's not just burial insurance! Learn about the different types of FE insurance available, sales strategies, types of cases, and more in this episode of the ASG Podcast!
How to Add Technology to Your Insurance Business
Ready to bring technology into your business? Not sure where to start? Listening to this episode is a must if you've been thinking about adding technology to your insurance sales process.
March 6, 2020 | The Friday Five
The Friday Five for March 6, 2020: Coronavirus - shortages and preparedness; Coronavirus - funding for testing; Super Tuesday results boost UnitedHealth Group and CVS stock prices; Walmart Health; and news on Ritter's State of the Senior Market.
Ready to Join an FMO? 10 Things to Consider
Thinking about partnering with a field marketing organization? Wondering how you can tell the good from the bad? Our top 10 list outlines what you need to know before you partner with an FMO.
The Year in Review | Ritter's State of the Senior Market Episode 1
Craig highlights the milestones reached at Ritter Insurance Marketing in 2019. Production stats, Medicareful strides, Medicareful Living, changes to Agent Survival Guide, what's coming in 2020 from Ritter, and more!
What are Insurance Agents Responsible for Under HIPAA?
Stay HIPAA compliant with the Agent Survival Guide Podcast! Find out what you're responsible for under HIPAA regulations.
The latest from Ritter's Blog:
The Best Software for Tracking Your Medicare Commissions
You may enjoy selling Medicare Advantage, Medicare Supplement, and Part D plans because you like helping others, but you and your family may also depend on the commissions your insurance career or side hustle...(read more)
Examining the Medicare Part B Premium Giveback
The standard monthly Part B premium cost for beneficiaries in 2020 is $144.60. Wouldn't it be nice if your clients could get some of that money back? Good news, this is a possibility...(read more) 
The Top 5 Products to Sell During Medicare's Lock-In Period
Which products should Medicare sales agents sell outside of the Annual Enrollment Period to keep earning commissions? We've got the top five additional plan types that should be in your portfolio during...(read more)
Subscribe & Follow:
Connect on social: