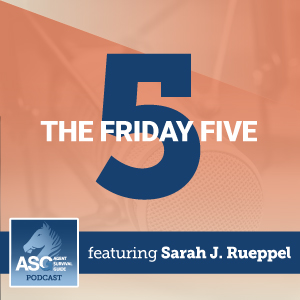 The Friday Five for March 19, 2021:
The American Rescue Plan Act of 2021
Dr. B & leftover COVID vaccines
COVID vaccine hesitancy
Your Online Presence & Branding
The COVID-19 Pandemic - One Year Later
Mentioned in this episode:
American Rescue Plan Act of 2021: Key Healthcare Provisions
Combatting Vaccine Hesitancy and Public Confusion: 5 Tips for More Compelling Communications
Dr. B – The standby list for COVID vaccines
Everything We Felt In The First Pandemic Year, In Photos
Final Coverage Provisions In The American Rescue Plan And What Comes Next
H.R.1319 – American Rescue Plan Act of 2021
Need a COVID Vaccine? This Man's Website Will Tell You When a Nearby Clinic Has a Dose for You
One Year into the Pandemic: Implications of COVID-19 for Social Determinants of Health
One year later: 15 ways life has changed since the onset of the COVID pandemic
One year later – To brighter days ahead
Sorrow and stamina, defiance and despair. It's been a year.
The First Steps to Take When Creating an Online Presence for Your Company
More episodes you'll like:
March 12, 2021 | The Friday Five
Did someone say FriYAY Five? 🥳 We're kicking off the weekend AND celebrating our host's birthday today. Sarah's another year wiser and she's got five more podcast recommendations to share!
5 Tips for Creating Your Own Personal Brand
Branding yourself sets your insurance business apart from the competition. Check out our tips before you begin developing your personal brand.
Should Insurance Agents Have Their Own Website?
To have a website, or to not have a website? Does my insurance business really need its own website? What would I use it for other than contact information? How do I get started? We answer all these questions and more in this must-listen episode of our Agent Survival Guide Podcast!
Articles to Share with Your Clients:
I've Gotten the COVID Vaccine. Now What?
Once you've received the COVID-19 vaccine, you may be wondering what's next? Can you return to normal life? The answer is a little complex.
Start Your Green Thumb with a Windowsill Garden
If you've ever wanted a garden, but don't have the space or time, you're in luck! Growing a windowsill garden can make it both easier and more convenient to have a garden.
What is kefir? For something that's as easy to make or find, it's incredibly healthy — that's what it is!
The latest from Ritter's Blog:
Why Insurance Agents Fail (& How Not To!)
There are many reasons why insurance agents may "fail" or not be as successful as they originally set out to be. Let's discuss some of those obstacles, and how to overcome them!
Ritter is More Than Medicare & Our New Team Brand Shows Why
When selling Medicare Advantage and Medicare Supplement policies, it's important to remember that More than Medicare products are the missing pieces of the puzzle.
Medicare Advantage Trial Rights Explained for Agents
If you have a client who enrolled in a Medicare Advantage plan but wants to go (back) to Original Medicare, they may qualify for a Medicare Advantage trial right! This would allow them to update their coverage outside of the Annual Enrollment Period.
Subscribe & Follow:
Connect on social: