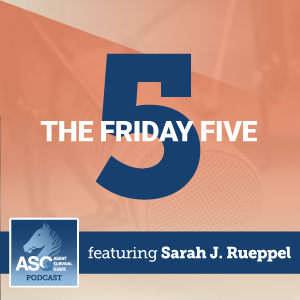 The Friday Five for March 20, 2020:
Federal COVID-19 Response Plan
Medicare telehealth expansion
Coronavirus and retail stores
Kids and COVID-19
What to do while quarantined
Mentioned in this episode:
23 fun activities to do with kids using stuff you already have at home, as you wait out coronavirus closures
A federal plan to tackle the coronavirus pandemic warns it 'will last 18 months or longer' and could include 'multiple waves'
A list of stores that temporarily have closed or cut hours because of coronavirus
Children and Coronavirus: Research Finds Some Become Seriously Ill
Coronavirus looks different in kids than in adults
Coronavirus store closures, changes: See which retailers are closed or changing hours
Giant list of things to do, watch with your kids during the coronavirus pandemic
Medicare Telemedicine Health Care Provider Fact Sheet
President Trump Expands Telehealth Benefits for Medicare Beneficiaries During COVID-19 Outbreak
Stores designate shopping time for seniors vulnerable amid coronavirus: Safeway, Whole Foods, Target and more
To keep seniors safe at home, Medicare expands telemedicine
Tracking retail's response to the coronavirus
U.S. Government COVID-19 Response Plan
U.S. Viral Plan Anticipates 18-Month Pandemic and Widespread Shortages
What Parents Need to Know About Coronavirus
What To Do With Kids At Home On Coronavirus Break For Who Knows How Long (Without Losing It)
What to Watch, Listen to and Cook During Your Coronavirus Self-Quarantine
What to Watch While Stuck at Home—and How to Stream It
While your kids are out of school, here are 50 things to keep them busy and socially distant
Whole Foods, Fresh Market, Redner's join list of stores open early for seniors vulnerable amid coronavirus outbreak
Working at home during the coronavirus crisis with kids underfoot? Here are 9 ways to cope
More episodes you'll like:
March 13, 2020 | The Friday Five
The Friday Five for March 13, 2020: CVS Pharmacy drops delivery fees during COVID-19 outbreak; Coronavirus Q&A from CNN; Jack Dorsey still CEO of Twitter; Oil wars and gas prices; and PepsiCo buys Rockstar Energy
How to Add Technology to Your Insurance Business
Ready to bring technology into your business? Not sure where to start? Listening to this episode is a must if you've been thinking about adding technology to your insurance sales process.
Medicare Regulation & Legislation | Ritter's State of the Senior Market Episode 2
Craig covers upcoming Medicare regulation and legislation insurance agents need to know about in 2020! Learn about the implications of MACRA, the 21st Century Cures Act, the 2021 Advance Notice, and more, and what it means for your insurance business.
The Year in Review | Ritter's State of the Senior Market Episode 1
Craig highlights the milestones reached at Ritter Insurance Marketing in 2019. Production stats, Medicareful strides, Medicareful Living, changes to Agent Survival Guide, what's coming in 2020 from Ritter, and more!
How to Market Yourself Effectively
Not sure where to start when it comes to marketing yourself or your insurance business? Need to refresh your current marketing strategy? Listen to our marketing tips for insurance agents in this episode of our ASG Podcast.
What Are Insurance Agents Responsible for Under HIPAA?
Stay HIPAA compliant with the Agent Survival Guide Podcast! Find out what you're responsible for under HIPAA regulations.
The latest from Ritter's Blog:
More People Working Past Age 65: What It Means for Agents Selling Medicare Plans
For agents selling Medicare plans, the stereotypical prospect has been someone with graying hair, approaching the age of 65 or already past it, and retired. There have always been those who don't fit this stereotype; however, lately, you've probably noticed more of them.
The Best Software for Tracking Your Medicare Commissions
You may enjoy selling Medicare Advantage, Medicare Supplement, and Part D plans because you like helping others, but you and your family may also depend on the commissions your insurance career or side hustle provides.
Examining the Medicare Part B Premium Giveback
The standard monthly Part B premium cost for beneficiaries in 2020 is $144.60. Wouldn't it be nice if your clients could get some of that money back? Good news, this is a possibility!
Subscribe & Follow:
Connect on social: