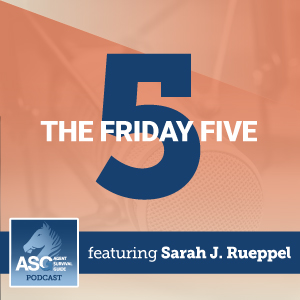 The Friday Five for March 26, 2021:
Xavier Becerra confirmed as HHS secretary
CMS Payment Model Updates
USPS Delivering for America 10-Year Plan
Anthem to acquire myNEXUS
Ritter Insurance Marketing Holding D-SNP Summit (Register Now!)
Mentioned in this episode:
Anthem, Inc. To Acquire myNEXUS, Home Health Benefits Manager
Becerra squeaks through confirmation vote to become HHS secretary
Delivering for America Summary PDF
Disney+: Every New Move & TV Show Coming in April 2021
Here are the payment models CMS has either pulled for review or delayed
Kids love Squishmallows: Here's what they are, and why they're so hard to find
Postmaster General announces 10-year plan including longer mail delivery times and cuts to post office hours
Register to attend Ritter Insurance Marketing's D-SNP Summit!
Squishmallow toy craze: Where do I get one? What is the cost?
Squishmallows went viral in 2020 and are quickly becoming Gen Z's Beanie Babies
What's New on Netflix in April 2021
More episodes you'll like:
March 19, 2021 | The Friday Five
The Friday Five for March 19, 2021: The American Rescue Plan Act of 2021, Dr. B & leftover COVID vaccines, COVID vaccine hesitancy, Your Online Presence & Branding, The COVID-19 Pandemic - One Year Later
Cover Those Copays with Hospital Indemnity
Ready to start selling Hospital Indemnity? This episode covers the benefits of these insurance plans and how to cross-sell them with existing products in your portfolio.
Working with New Medicare Clients in Poor Health
Don't let a client's not-so-great medical history scare you away! Learn how to walk them through their options to find the Medicare coverage that fits their needs and budget.
Articles to Share with Your Clients:
I've Gotten the COVID Vaccine. Now What?
Once you've received the COVID-19 vaccine, you may be wondering what's next? Can you return to normal life? The answer is a little complex.
Simple Exercises for a Rainy Day
You want to get fit for the summer, but it's ugly outside and you're stuck inside. Don't fret! We've got an effective HIIT workout using simple exercises for a rainy day.
What is the Medicare Part B Premium Giveback?
Medicare is affordable health care coverage for many, but some Medicare Advantage plans have what's called a Medicare Part B Premium Giveback. What does that mean for you?
The latest from Ritter's Blog:
Why Insurance Agents Fail (& How Not To!)
There are many reasons why insurance agents may "fail" or not be as successful as they originally set out to be. Let's discuss some of those obstacles, and how to overcome them!
Ritter is More Than Medicare & Our New Team Brand Shows Why
When selling Medicare Advantage and Medicare Supplement policies, it's important to remember that More than Medicare products are the missing pieces of the puzzle.
Medicare Advantage Trial Rights Explained for Agents
If you have a client who enrolled in a Medicare Advantage plan but wants to go (back) to Original Medicare, they may qualify for a Medicare Advantage trial right! This would allow them to update their coverage outside of the Annual Enrollment Period.
Subscribe & Follow:
Connect on social: