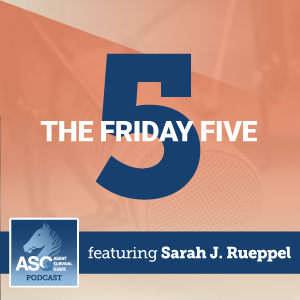 The Friday Five for March 27, 2020:
The Coronavirus Stimulus Package
How to Help During COVID-19 Pandemic
Instagram debuts new feature
Zoom lets you video chat for free
New to streaming for April 2020
Mentioned in this episode:
5 Key Things in the $2 Trillion Coronavirus Stimulus Package
5 Ways to Help Your Community Combat Coronavirus (While Still Social Distancing)
Architect's Virtual Capitol Tour
Everything Coming to Netflix, Disney+, Hulu & Amazon Prime Video in April
Gift cards, merchandise and to-go orders: Here's how restaurants say customers should support them
How to Help and Where to Get Help During the COVID-19 Pandemic
Instagram has a new way for people isolated by coronavirus to connect: sharing posts via video chat
Instagram Launches New Co-Watching Feature to Help Users Connect Amid COVID-19 Lockdowns
Meigs' Miniatures: The Story of the Tiny Doors in the U.S. Capitol
OUR VIEW: Help our small businesses stay afloat
Senate approves historic $2 trillion stimulus deal amid growing coronavirus fears
Senate Oks $2T coronavirus stimulus package in unanimous vote; House sets Friday vote
Senate Plans Vote on $2 Trillion Stimulus Bill After Sealing Bipartisan Deal
What You Need to Know About Using Zoom
More episodes you'll like:
March 20, 2020 | The Friday Five
The Friday Five for March 20, 2020: Federal COVID-19 Response Plan; Medicare telehealth expansion; coronavirus and retail stores; kids and COVID-19; and what to do while quarantined.
How to Add Technology to Your Insurance Business
Ready to bring technology into your business? Not sure where to start? Listening to this episode is a must if you've been thinking about adding technology to your insurance sales process.
Enrollment Stats for 2020 | Ritter's State of the Senior Market Episode 3
Which carriers topped the Medicare market for AEP 2020? Who should you add to your portfolio for 2021? Craig looks at MA and PDP enrollment statistics from 2019 and AEP 2020 in the third installment of our State of the Senior Market series. Bonus: He also breaks down high-producing states and their top carriers.
Medicare Regulation & Legislation | Ritter's State of the Senior Market Episode 2
Craig covers upcoming Medicare regulation and legislation insurance agents need to know about in 2020! Learn about the implications of MACRA, the 21st Century Cures Act, the 2021 Advance Notice, and more, and what it means for your insurance business.
The Year in Review | Ritter's State of the Senior Market Episode 1
Craig highlights the milestones reached at Ritter Insurance Marketing in 2019. Production stats, Medicareful strides, Medicareful Living, changes to Agent Survival Guide, what's coming in 2020 from Ritter, and more!
The latest from Ritter's Blog:
What Agents Can't Say During Medicare Sales Appointments
The Centers for Medicare & Medicaid Services have some strict rules on what agents can and cannot say during Medicare sales appointments, but pulling them out of the dense Medicare Communications and Marketing Guidelines (MCMG) can be tough and time-consuming. Here are some examples to help simplify things!
The Best Software for Tracking Your Medicare Commissions
You may enjoy selling Medicare Advantage, Medicare Supplement, and Part D plans because you like helping others, but you and your family may also depend on the commissions your insurance career or side hustle provides.
Examining the Medicare Part B Premium Giveback
The standard monthly Part B premium cost for beneficiaries in 2020 is $144.60. Wouldn't it be nice if your clients could get some of that money back? Good news, this is a possibility!
Subscribe & Follow:
Connect on social: