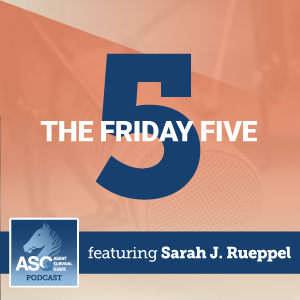 The Friday Five for May 15, 2020
CMS Announces Enhancements to Medicare Plan Finder
HEROES Act Set for House Vote Today
How to Set a Social Media Policy During the Pandemic
Zoom 5.0 – What You Need to Know
Ritter's Resources to Stay in Touch with Clients – Downloadable Templates!
Mentioned in this episode:
6 steps for establishing a strong social media policy during the pandemic
CMS Memo: Medicare Plan Finder Enhancements for Contract Year 2021
Client Retention Templates: Ritter Can Help You Stay In Touch With Your Clients
'Hamilton' Course Change: Disney Sets July 3 Streaming Release For $75 Million Lin-Manuel Miranda Musical
House Democrats unveil $3 trillion coronavirus relief package
House Democrats unveil massive new coronavirus relief bill ahead of Friday vote
It's Here! 5 Things to Know About Zoom 5.0
Krispy Kreme, Chipotle and more honor 2020 graduates with food freebies
Student Loan Forgiveness And $1,200 Second Stimulus Check Included in New Stimulus Proposal
More episodes you'll like:
The Friday Five for May 8, 2020: AHIP 2021 Training Update; Humana Waives Copays and Cost-Sharing, Talks Telehealth; Need Headphones to Help WFH?; Krasinski Keeps Some Good News Coming; How to Celebrate Mother's Day During a Pandemic
Helping Your Clients Find Their Medicare Beneficiary Identifier (MBI)
Need to help a client look up their Medicare Beneficiary Identifier? What can you do now that the lookup feature on MyMedicare.gov has been phased out? We've got four ways insurance agents can help their Medicare clients in this episode of the ASG Podcast.
5 Steps to Selling Medicare Supplements Successfully
Build your Medicare portfolio with our Med Supp sales tips! We walk you through the process of getting started, from finding the carrier info you need to helping you get contracted and ready-to-sell. Medicare Supplement sales success can be yours!
The latest from Ritter's Blog:
Ritter Can Help You Stay In Touch With Your Clients
Client retention is just as important as taking on new clients. In the insurance world, once a sale is closed, your duty as an agent isn't over. You still need to make sure you check in with your clients from time to time to maintain strong relationships. Use these downloadable templates when touching base with your clients! 
How You Can Sell Insurance in Your State During COVID-19
We've gathered information regarding your state's stance on in-person sales during the COVID-19 pandemic, as well as information about applying for unemployment benefits as a self-employed worker.
Why It's Time to Take a More Relaxed Approach to Insurance Sales
How many times have you walked into a store just wanting to look at something, but ended up walking out with nothing because the stakes felt too high? Maybe you were turned off because you couldn't "just look" without a salesperson trying to give you their spiel? They "pushed" you right out the door, didn't they? Here's how (and why!) to make sure you're not that salesperson.
5 Steps to Selling Medicare Supplements Successfully
Whether you're already selling Medicare Supplements or just starting to look into offering this type of product, there are five simple steps you can take to find more success in your sales. Do you know what they are?
How to Successfully Set SMART Goals
Setting goals is a great way to keep your business on track with a clear path ahead. We recommend setting goals at the beginning of each plan year to help you flourish in the year to come.
Subscribe & Follow:
Connect on social: