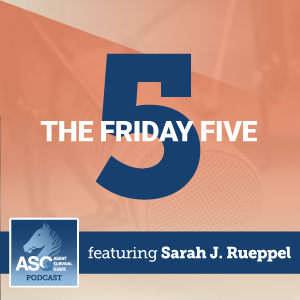 The Friday Five for May 22, 2020:
PA Insurance Department Notice 2020-14 and related COVID-19 Guidance and Orders
Kaiser Family Foundation 2020 Medicare Advantage Fact Sheet
Dental Visits During COVID-19 Pandemic
Vault Health and hims & hers offer at-home coronavirus test kits
Joe Rogan Experience and Spotify
Mentioned in this episode:
A Dozen Facts About Medicare Advantage in 2020
Enrollment Stats for 2020 | Ritter's State of the Senior Market Episode 3
Hims & Hers, Vault Health roll out at-home saliva COVID-19 tests
How to make a Facebook avatar like everyone is doing right now
How You Can Sell Insurance in Your State During COVID-19
Hulu is bringing back a simpler, more familiar home screen
Joe Rogan's podcast is becoming a Spotify exclusive
Pennsylvania COVID-19 DOH Building Safety Order
Pennsylvania COVID-19 Business Guidance
Pennsylvania COVID-19 DOH Business Safety Order
Pennsylvania Insurance Department Active Department Notices
The Umbrella Academy Season 2 | Official Date Announce | Netflix
What Going to the Dentist Is Like Now
More episodes you'll like:
May 15, 2020 | The Friday Five
The Friday Five for May 15, 2020: CMS Announces Enhancements to Medicare Plan Finder; HEROES Act Set for House Vote Today; How to Set a Social Media Policy During the Pandemic; Zoom 5.0 – What You Need to Know; and Ritter's Resources to Stay in Touch with Clients – Downloadable Templates!
Helping Your Clients Find Their Medicare Beneficiary Identifier (MBI)
Need to help a client look up their Medicare Beneficiary Identifier? What can you do now that the lookup feature on MyMedicare.gov has been phased out? We've got four ways insurance agents can help their Medicare clients in this episode of the ASG Podcast.
The Best Software for Tracking Your Medicare Commissions
How do you track your Medicare commissions? Want a better solution? Listen to this episode of our ASG Podcast for suggestions on tracking (and troubleshooting!) your hard-earned insurance commissions.
What Agents Can't Say During Medicare Sales Appointments
Not sure what you can or can't say during a Medicare sales appointment? CMS has a lot of rules regarding marketing Medicare, but they're not always simple to understand. We sifted through the MCMG to bring you 9 examples of what NOT to say the next time you make a Medicare sales pitch.
The latest from Ritter's Blog:
A Review of the Top Medicare Quote Engines for Insurance Agents
An agent selling Medicare products is only as good as the Medicare quoting tool they're using. We're looking at agents' top options for fast and reliable Medicare quoting software and what makes them so special.
Ritter Can Help You Stay in Touch with Your Clients
In any type of business, client retention is just as important as taking on new clients. In the insurance world, once a sale is closed, your duty as an agent isn't over.
Working with New Medicare Clients in Poor Health
When you meet with a new Medicare client who has a serious health condition or a hefty prescription drug history, flexible coverage is key for your client's health and your book of business.
Subscribe & Follow:
Connect on social: