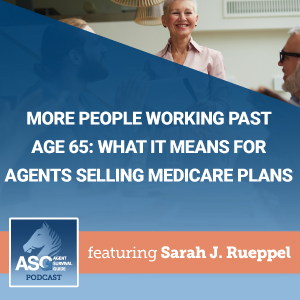 What does Medicare look like for your clients working past age 65? This is one of the most common questions we get from insurance agents. And we've got answers! Learn how to help clients enroll in Medicare when they plan to continue working. We'll even cover how to help a client that's already on Medicare who wants to "unretire" and rejoin the workforce! You don't want to miss this episode of our ASG Podcast!
Mentioned in this episode:
4 Perks of Being a Part-Time Insurance Agent
4 Tips for Making a Better Insurance Sales Pitch
Labor force projections to 2024: the labor force is growing, but slowly
More older Americans are "unretiring"
Should I Enroll in Medicare When I'm First Eligible
Social Security Field Office Locator
Staying Ahead of the Curve 2013: The AARP Work and Career Study
What is the Social Security Retirement Age?
Your Clients May Not Be Automatically Enrolled in Medicare
More episodes you'll like:
5 Life Insurance Myths Your Clients May Believe
Do your clients truly understand life insurance? We debunk five myths your clients may use as objections to purchasing a policy. Learn how to handle these objections and make the sale!
The Top 5 Products to Sell During Medicare's Lock-In Period
Looking for insurance products to sell during the Medicare lock-in period? In this episode, we highlight the top 5 products insurance agents should include in their portfolio all year round!  
The Value of Staying in Touch with Clients
Why is client retention so important for insurance agents? How do you know where to start? We talk about the why and give you some practical tips to help you retain your Medicare clients.
The latest from Ritter's Blog:
Guiding Your Agency Through COVID-19
The COVID-19 virus has effectively changed the way the United States operates for the foreseeable future. With business closures and travel restrictions, the potential to harm small businesses like insurance agencies is obvious and potentially devastating. But, with the right combination of planning and flexibility — and a dash of help from your friendly FMO — it doesn't have to derail your agency's productivity.
How to Successfully Set SMART Goals
Setting goals is great way to keep your business on track with a clear path ahead. We recommend setting goals at the beginning of each plan year to help you flourish in the year to come.
Ritter and Carrier Operations During the COVID-19 Pandemic
The COVID-19 virus has effectively changed the way the United States operates for the foreseeable future. A compilation of information from the carriers Ritter supports regarding their capacity to continue operations during the COVID-19 pandemic.
What Agents Can't Say During Medicare Sales Appointments
The Centers for Medicare & Medicaid Services have some strict rules on what agents can and cannot say during Medicare sales appointments, but pulling them out of the dense Medicare Communications and Marketing Guidelines (MCMG) can be tough and time-consuming. Here are some examples to help simplify things!
Examining the Medicare Part B Premium Giveback
The standard monthly Part B premium cost for beneficiaries in 2020 is $144.60. Wouldn't it be nice if your clients could get some of that money back? Good news, this is a possibility!
Subscribe & Follow:
Connect on social: