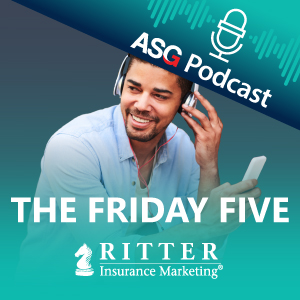 The Friday Five for November 1, 2019:
The Senate voted on the Trump Administration rule on short-term care insurance
Mark Bertolini, former CEO of Aetna, talks fixing health care
Interest rate changes
Facebook's new health tool
Highlights from the Kaiser Family Foundation Medicare Advantage 2020 Spotlight First Look
Mentioned in this episode:
A Dozen Facts About Medicare Advantage in 2019
Ex-Aetna CEO Bertolini: Fixing health care starts way outside doctor's office
Facebook launches new tool to help you get health tests and screenings
Facebook Vows Strict Privacy Safeguards as it Rolls Out Preventive-Health Tool
Fed cuts interest rates, but indicates a pause is ahead
Federal Reserve Cuts Interest Rates for Third Time in 2019
Former Aetna Inc. CEO Mark Bertolini at Crain's 2019 Health Care Leadership Summit
Medicare Advantage 2020 Spotlight: First Look
Money saver or bad deal? Debate over short-term insurance policies heads to Senate
New Rules for Section 1332 Waivers: Changes and Implications
Senate Democrats fail in bid to block Trump's Obamacare opt-out
The Senate just failed to overturn a Trump administration rule on the Affordable Care Act
More episodes you'll like:
5 Reasons Clients Switch Medicare Plans During AEP | ASG178
The Annual Enrollment Period isn't just for new Medicare enrollees. It's also the time to review your current clients' Medicare coverage to see if switching plans could be beneficial. Start by learning the five reasons why enrollees switch their Medicare plans during AEP.
Senior Speak: Talking to Medicare Clients Age 65 & Older | ASG176
Learn how to connect with your Medicare clients. There are some best practices to think about when you're talking with clients who are 65 or older. We tell you what they are!
What Seniors Value Most in an MA Plan | ASG175
Want to improve your Medicare Advantage sales? Start by finding out more about your audience, and what they want from their insurance policy.
The latest from Agent Survival Guide:
Be Prepared to Discuss Medicare Telehealth Coverage This AEP
It's the Annual Enrollment Period and that means meetings, meetings, and more meetings! While you're together with clients, there's a good chance at least one will ask you about telehealth. What is... (read more)
FMO vs. IMO vs. NMO vs. MGA vs. GA: What's the Difference?
The amount of acronyms in the insurance industry is astounding. Usually what these abbreviations stand for and mean is pretty straightforward (AEP stands for Annual Enrollment Period, when people can update Medicare... (read more)
The Pros and Cons of Selling Insurance
Thinking of joining the insurance industry? Great idea! We think it's a rewarding career path to pursue. If you're still on the fence, this article is to help you weigh the practical... (read more)
Subscribe & Follow:
Connect on social: