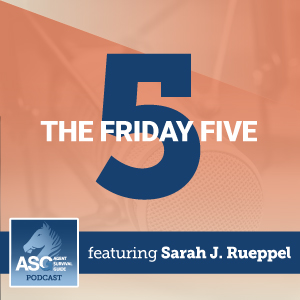 The Friday Five for October 1, 2021:
AEP Marketing Begins!
Latest Update on Medicare Expansion
USPS Delays Start Today
COVID-19 Vaccine Trial Data for Kids 5-11 Submitted to FDA
YouTube bans vaccine misinformation videos and accounts
Mentioned in this episode:
Delivering for America Fact Sheet
Delivering for America: Our Vision and Ten-Year Plan
Delta Variant: What We Know About the Science
Everything Coming to Netflix, Disney+, HBO Max & Other Major Streaming Services in October 2021
Fauci Sees Pfizer Vaccine Approval For Young Kids By End Of October
Managing harmful vaccine content on YouTube
New USPS price hikes and delays begin in October: What to know today
Pelosi Says Infrastructure, Social Safety Net Will Be Voted on Separately
Pfizer and BioNTech Submit Initial Data to U.S. FDA From Pivotal Trial of COVID-19 Vaccine in Children 5 to <12 Years of Age
U.S. Postal Service Announces Proposed Temporary Rate Adjustments for 2021 Peak Holiday Season
What Can MAPD Insurance Agents Do Prior to AEP?
Which Halloween candy is your state most fixated on?
YouTube bans vaccine misinformation
More episodes you'll like:
September 24, 2021 | The Friday Five
5 Insurance Marketing Tips to Help Agents Stand Out from the Crowd
Do's and Don'ts of Medicare Compliance
Articles to Share with Your Clients:
Mechanical Hobbies for Seniors
Where to Turn for Medicare Help
Ritter Insurance Marketing eBooks & Guides:
Agent Survival Kits: Beginners or Experts
A Quick Guide to Cross-Selling Ancillary Insurance with Medicare Products
The Complete Guide on How to Sell Medicare Advantage Plans
The latest from Ritter's Blog:
Organization Tips and Tricks for AEP
Selling Life Insurance to Clients with Budget Concerns
What Can MAPD Insurance Agents Do Prior to AEP?
Subscribe & Follow:
Connect on social: