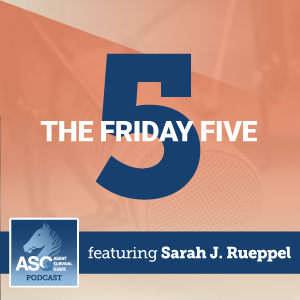 The Friday Five for October 2, 2020:
2021 Medicare Part B Premium
Stimulus relief talks start up again
Molina acquires Affinity Health Plan
CMS estimates low MA premiums for 2021
Anthem and Humana tackle food insecurity
Call the ASG Podcast Hotline at 1-717-562-7211
Mentioned in this episode:
Congress may cap Medicare Part B premium spike for 2021
How Anthem, Humana quickly moved to meet food insecurity needs of MA members due to COVID-19
Joey King to Star and Exec Produce Netflix's Adaptation of 'Uglies' With McG Directing
Mnuchin says he is 'hopeful' White House and Democrats can strike coronavirus stimulus deal
Molina To Buy Affinity Health Plan For $380 Million in Medicaid Deal
Trump Administration Announces Historically Low Medicare Advantage Premiums and New Payment Model to Make Insulin Affordable Again for Seniors
More episodes you'll like:
September 25, 2020 | The Friday Five
The Friday Five for September 25, 2020: Walmart Testing Drone Delivery, Social Security Outflow 2021, Latest Microsoft Teams Updates, How Anxiety Affects You, and Apple iOS14 & Productivity
5 Tips for Using Medicareful to Sell More Medicare Plans
Get the tool that can help you sell more Medicare plans - Medicareful! These are just some of the highlights: Electronic PTC and SOA in one, quote and enroll clients remotely, and store client prescription drug info in the Ritter Platform. Learn more and get your own FREE Medicareful site today!
International Podcast Day 2020
Happy International Podcast Day! 2020 has certainly been a year to, er, remember. There's a lot of that reflected in this year's episode. But there's also a fair bit of fun. Sarah shares it all in this episode – podcast recommendations, standout episodes, updates, bonus content, and more, including what makes her want to listen.
Navigating Insurance Sales During the Medicare AEP & COVID
AEP is coming and COVID-19 is still here. What does that mean for your Medicare sales and commissions this year? Learn how to pivot your sales strategy and adapt your business to sell Medicare Advantage, Med Supp, and Medicare Part D Prescription plans compliantly during AEP and the pandemic. We're here to help you do it!
Understanding Medicare Advantage Enrollment Periods
Medicare Advantage has different enrollment periods than Medicare Supplements. What are the Med Advantage enrollment periods? How and when do your Medicare clients qualify for them? Get the answers to your MA enrollment period questions right now!
The latest from Ritter's Blog:
7 Powerful Practices for Selling Prescription Drug Plans
Everyone on Medicare needs credible prescription drug coverage. If you're offering Medicare Advantage only plans or Medigap plans, you can easily earn more selling prescription drug insurance. We'll tell you how! 
How to Use the New Medicare Plan Finder & FAQs
As the Annual Enrollment Period approaches, it's important to be aware of changes affecting the tools and resources you use and understand how to navigate through any updates.
4 Steps to Finding the Perfect PDP for Your Client
One vital tool that we recommend every agent become familiar with is our new Drug Cost Estimator within the Ritter Platform. Knowing the tool exists is one thing, but making it work for you and your clients is another.
Subscribe & Follow:
Connect on social: