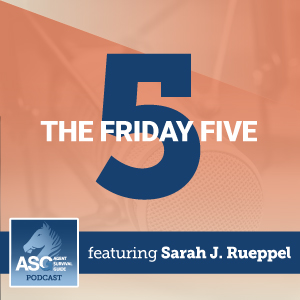 The Friday Five for October 22, 2021:
Social Security announces official 2022 COLA
Social Security 2100: A Sacred Trust
Over-the-counter Hearing Aids?
Medicare Beneficiaries & Plan Comparison
Headspace & Ginger Merger Finalized
Ask the Agent Survival Guide Team:
Mentioned in this episode:
AHIP Test Tips & Tricks for Medicare Certification
Bill to Change Social Security COLA, Expand Payroll Tax Coming Wednesday
FDA proposes rule to offer over-the-counter hearing aids
Headspace, Ginger finalize merger to form $3B mental health company
How the CPI-E Compares With the CPI-W for the Annual Social Security COLA
Seven in Ten Medicare Beneficiaries Did Not Compare Plans During Past Open Enrollment Period
Social Security 2100: A Sacred Trust
Social Security beneficiaries will soon see the biggest jump in monthly checks in 40 years. How to prepare
Social Security Benefits Increase in 2022
What is AHIP and Why Do You Need It?
What is AHIP Certification and How Do I Get It?
More episodes you'll like:
October 15, 2021 | The Friday Five
5 Insurance Marketing Tips to Help Agents Stand Out from the Crowd
Effective Sales Strategies for Your Second Medicare AEP During the COVID-19 Pandemic
Here are the Medicare Out-of-Pocket Expenses That Cost Beneficiaries the Most
Selling Life Insurance to Clients with Budget Concerns
Articles to Share with Your Clients:
Does Medicare Cover Spouses or Dependents?
Does Vitamin C Boost Your Immune System?
When Should I Seek Mental Health Help?
Ritter Insurance Marketing eBooks & Guides:
How to Host a Successful Medicare Educational Event
Modern Medicare Marketing for Today's Agents
Social Media Marketing for Insurance Agents
The latest from Ritter's Blog:
2022 Plans Are Now Available on the Medicare Quote Engine
Rules for Hosting a Compliant Medicare Educational Event
Rules for Hosting a Compliant Medicare Sales Event
Subscribe & Follow:
Connect on social: