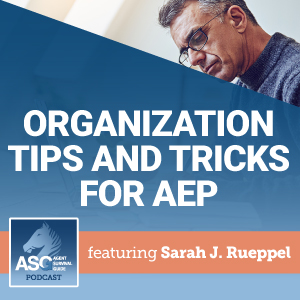 Don't get stressed out over AEP, get organized! The Annual Enrollment Period can be a stressful time for insurance agents - but it doesn't have to be for you! Listen to learn tips and tricks to make this AEP go smoother than ever.
Mentioned in this episode:
4 Perks of Partnering with an FMO
DIY Desk Organizer: 18 Project Ideas
Learn How to Use Medicareful Living to Get Leads
Organize Your Office and Improve Your Design
Register to Attend Ritter's Virtual Summits
Ritter's Medicare Quote Engine
Tech Takeaways for Forward-Thinking Insurance Agents
The Ritter Platform Launches New Tools & Shared Client Records
Things to Think About Post-AEP
What an FMO Can Do for Your Business
More episodes you'll like:
2021 Medicare Advantage and Part D Certification Info
Looking for 2021 Medicare Advantage and Medicare Part D agent certification and product training details? Find out how to get carrier AHIP, Medicare Advantage certification, Part D certification, and product training details in one convenient place!
5 Must-Haves for Every Insurance Agent This AEP
Are these must-haves part of your strategy for this Annual Enrollment Period? They should be! Listen as we highlight five essentials to simplify your Medicare sales this AEP.
Ready to Join an FMO? 10 Things to Consider
Thinking about partnering with an FMO? Wondering how you can tell the good from the bad? Our top 10 list outlines what you need to know before you partner with a field marketing organization.
The latest from Ritter's Blog:
Tips for Becoming a Top-Producing Insurance Agency
Becoming a top producing agency isn't something that happens overnight. It will take work and maybe a bit of trial and error to see what will work best for your business and sales flow.
FAQs About NAHU Medicare Certification
Got questions about NAHU's Medicare Advantage and Part D certification training? We've got answers!
NEW: NAHU 2021 Medicare Certification Training
New this year, NAHU is offering a Medicare certification training for agents who'd like to sell 2021 Medicare Advantage and Part D products for the Annual Enrollment Period.
Subscribe & Follow:
Connect on social: