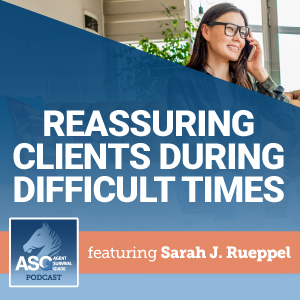 How are your clients doing? Do they have questions about COVID-19 and Medicare? Have you reached out? Have they? If you're not sure what to say, or even where to start, we've got some suggestions in this episode. (And they're easy to implement, too!)
Mentioned in this episode:
Be Prepared to Discuss Medicare Telehealth Coverage This AEP
How You Can Sell Insurance in Your State During COVID-19
Find Out How to Take Safe, Easy Medicare Enrollments Online
Get Registered with Ritter – It's FREE!
Learn More About the Ritter Platform
More Seniors Are Embracing Technology. But Can They Use It? UCSD Researchers Suggest Asking Them.
Ritter and Carrier Operations During the COVID-19 Pandemic
Ritter Can Help You Stay in Touch with Your Clients
The Top 5 Benefits of Positive Thinking
More episodes you'll like:
July 24, 2020 | The Friday Five
The Friday Five for July 24, 2020: Six Months of COVID-19; WFH Productivity Tips; Windows 10 Hacks; Built To Last Branding Conference; and Diamond Wars
Guiding Your Agency Through COVID-19
It's an unprecedented time. COVID-19 has shut down businesses small and large, and if you're wondering how to run your business during a pandemic, you are not alone. How can your insurance agency continue to help clients and stay productive amidst the coronavirus pandemic? We've got some insight that might help.
How to Add Technology to Your Insurance Business
Need to bring technology into your business? Not sure where to begin? Start by listening to this episode! We'll help you revamp your insurance sales process.
The Best Software for Tracking Your Medicare Commissions
How do you track your Medicare commissions? Want a better solution? Listen to this episode of our ASG Podcast for suggestions on tracking (and troubleshooting!) your hard-earned insurance commissions.
Using e-Apps to Work From Home
COVID-19 has changed the way we currently do business. Learn how technology can help mitigate the space between how you used to sell insurance and the "new normal" we've found ourselves in.
The latest from Ritter's Blog:
Tips for Becoming a Top Producing Insurance Agency
Becoming a top producing agency isn't something that happens overnight. It will take work and maybe a bit of trial and error to see what will work best for your business and sales flow.
FAQs About NAHU Medicare Certification
Got questions about NAHU's Medicare Advantage and Part D certification training? We've got answers!
NEW: NAHU 2021 Medicare Certification Training
New this year, NAHU is offering a Medicare certification training for agents who'd like to sell 2021 Medicare Advantage and Part D products for the Annual Enrollment Period.
Subscribe & Follow:
Connect on social: