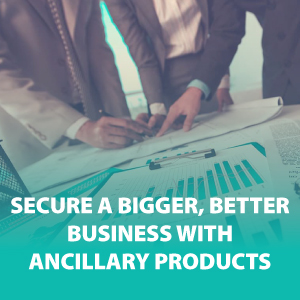 Ready to branch out from Medicare Advantage or Medicare Supplement sales? Learn how ancillary products can help you expand your reach and add more value to your portfolio.
Mentioned in this episode:
Building Client Loyalty: More than Just a Plan
Cover those Copays with Hospital Indemnity Plans
Sense Success with Dental, Vision, and Hearing Plans
These Plans Are Critical to Your Business Strategy
More episodes you'll like:
How to Add Technology to Your Insurance Business | ASG158
Ready to bring technology into your business? Not sure where to start? Listening to this episode is a must if you've been thinking about adding technology to your insurance sales process.
Insurance Agents & CMS Compliance | Social Media 101
Stay compliant with the CMS Medicare Communications and Marketing Guidelines — even while on social media. We outline the best practices for insurance agents to follow while using social media.
Social Media Privacy Tips for Insurance Agents | Social Media 101
Online privacy is a big deal. You want to use social media to market your insurance business. How do you protect yourself and your clients? We've got some best practices and a link to a very informative eBook that's free to download. Listen to find out more!
Top 10 Podcast Apps | Agent Apps
Which podcast app is the best? Do you listen on the number one app or a different one? What features are you missing out on? In the premiere episode of our newest series, Agent Apps, we explore the top 10 podcast listening apps and the features that make each one unique.
The latest from Agent Survival Guide:
Do's and Don'ts of Medicare Compliance
Life as an agent before Medicare's Annual Enrollment Period is a flurry of contracting and certifying. But there's another C that's even more important: Compliance. It's not just something to consider during... (read more)
Rules for Hosting a Compliant Medicare Educational Event
Holding an educational presentation is a fantastic way to grow your client base, but you must make sure to stay compliant. The Centers for Medicare and Medicaid Services (CMS) have set forth... (read more)
Rules for Hosting a Compliant Medicare Sales Event
Are you considering holding a marketing event to get the attention of more Medicare clients? You'll need to follow CMS' rules for hosting sales events. Check out our streamlined version of the... (read more)
Subscribe & Follow:
Connect on social: