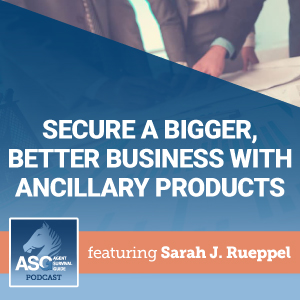 Ready to branch out from Medicare Advantage or Medicare Supplement Insurance sales? Learn how ancillary products can help you expand your reach and add more value to your portfolio.
Mentioned in this episode:
Building Client Loyalty: More than Just a Plan
Cover those Copays with Hospital Indemnity Plans
Sense Success with Dental, Vision, and Hearing Plans
These Plans Are Critical to Your Business Strategy
More episodes you'll like:
3 Easy Ways to Build Your Insurance Sales Territory
Maximize your reach and grow your selling territory! We outline the best practices for insurance agents to follow.
4 Ancillary Cross-Sales to Show Clients You Care
Ready to get started cross-selling? What products can you cross-sell with Medicare? Build up your insurance portfolio with our list of must-have ancillary products!
How Client Retention Boosts Your Insurance Sales
Master the art of treating your client as the renewal, not their policy. Learn why building relationships with your current clients is more beneficial (and cost effective!) than courting new ones.
Ritter is More Than Medicare & Our New Team Brand Shows Why
Does your Medicare sales portfolio have all the pieces of the coverage puzzle? In this episode, we talk about our new team brand and what More Than Medicare means for our agents.
Tips for Cross-Selling Medicare Products
Maximize your insurance business and your profits by cross-selling. We've put together a list of tips to help you get started!
Articles to Share with Your Clients:
3 Senior Women Who Have Changed the World
Happy Women's History Month! To celebrate, we want to honor these three women who have shown you can achieve great things over the age of 65!
Cookbooks vs. Cooking Books: What's the Difference?
If you're looking to improve your cooking, there are options you can try at home. Among these are cookbooks and cooking books. You may be surprised by the difference between the two.
Start Your Green Thumb with a Windowsill Garden
If you've ever wanted a garden, but don't have the space or time, you're in luck! Growing a windowsill garden can make it both easier and more convenient to have a garden.
The latest from Ritter's Blog:
Why Insurance Agents Fail (& How Not To!)
There are many reasons why insurance agents may "fail" or not be as successful as they originally set out to be. Let's discuss some of those obstacles, and how to overcome them!
Ritter is More Than Medicare & Our New Team Brand Shows Why
When selling Medicare Advantage and Medicare Supplement policies, it's important to remember that More than Medicare products are the missing pieces of the puzzle.
Medicare Advantage Trial Rights Explained for Agents
If you have a client who enrolled in a Medicare Advantage plan but wants to go (back) to Original Medicare, they may qualify for a Medicare Advantage trial right! This would allow them to update their coverage outside of the Annual Enrollment Period.
Subscribe & Follow:
Connect on social: