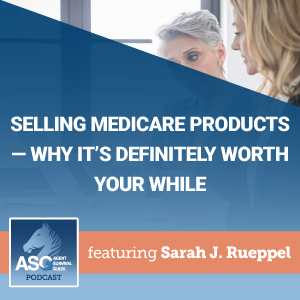 Why sell Medicare insurance products? We outline the reasons to start a career as an independent insurance agent in the Medicare market. Listen now to learn more!
Mentioned in this episode:
2020 Consumer Survey Insights: Medicare Enrollment Decisions
Do's and Don'ts of Medicare Compliance
Four Reasons Why Ritter Should Be Your FMO Insurance Agency
Getting Started Selling Medicare Supplements
How are Seniors Choosing and Changing Health Insurance Plans?
KFF: A Dozen Facts About Medicare Advantage in 2020
KFF: Medicare Advantage Fact Sheet
Older People Projected to Outnumber Children for First Time in U.S. History
National Vital Statistics Reports – Births: Final Data for 2013
Ritter's Medicare Quote Engine
SNPs: The Secret to Surviving Lock-in
Secure a Bigger, Better Business with Ancillary Products
Selling Hospital Indemnity with Medicare Advantage – Is It Worth It?
More episodes you'll like:
Do You Have What it Takes to Be a Great Insurance Agent?
Searching for a new career? Get the details on becoming an insurance agent and learn why the industry could be your next career move!
How to Get Started in Medicare Sales
New to the Medicare insurance industry? Welcome, and congratulations! We packed this episode with all the agent essentials - training, tools, enrollment periods and more! Basically, everything you want to know when starting out!
The Pros and Cons of Selling Insurance
Becoming an insurance agent is a big decision. If you're thinking about joining the insurance industry, this is the episode for you! We weigh the pros and cons of selling insurance, so you'll have a better idea of what you're getting yourself into before you take that leap.
Articles to Share with Your Clients:
Allergies are very common and can be a real drain on your quality of life. In worst cases, they can even be deadly. How can you go about life dealing with allergies?
Dishes to Impress Your Friends: Crêpes
Impressive meals don't just have to be at dinnertime. If you're having friends over for breakfast or brunch and want to flex your culinary muscles, try whipping up the amazing Crêpe Suzette!
Why It's OK to Be Sad Sometimes
Sadness is a common emotion we all feel at some point, and often our response is to try to move on as quickly as possible. However, evidence points toward the importance of accepting your sadness and working through it.
Ritter Insurance Marketing eBooks & Guides:
A Quick Guide to Cross-Selling Ancillary Insurance with Medicare Products
The Complete Guide to Client Loyalty and Retention
Your Step-By-Step Guide to Getting Started in Insurance Sales
The latest from Ritter's Blog:
Prospecting for Clients for Dental, Vision, and Hearing Insurance Sales
If you're considering selling dental, vision, and hearing (DVH) plans, where would you find leads? You might be surprised to learn that your DVH prospects could already be in your Medicare book of business!
How to Help Your Clients Get the Most Out of Their Medicare Advantage Plans
As an agent, you want to make sure your clients are getting the most out of their coverage. This means informing them of all the benefits their plans offer.
Medicare Isn't Just for Seniors: Selling to the Under-65 Market
Although many agents and insurers market Medicare toward senior citizens, they aren't the only people covered by this government program. In fact, more than eight million Medicare recipients are under the age of 65.
Subscribe & Follow:
Connect on social: