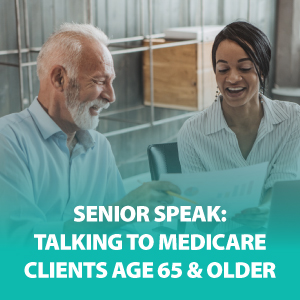 Learn how to connect with your Medicare clients. There are some best practices to think about when you're talking with clients who are 65 or older. We tell you what they are!
Mentioned in this Episode:
Addressing How We Talk About Aging Never Gets Old: 'Whatever You Do, Don't Say Elderly'
Aging & Communications: Engaging Older People
How to Communicate Effectively with Older Adults
In 'Sweetie' and 'Dear,' a Hurt for the Elderly
Keys to Client Retention: Face-to-Face Communication
Longevity Increased by Positive Self-Perceptions of Aging
The Mistakes We Make Communicating with Elders (and How to Fix Them)
The names we use for people over 50
The Senior Side: What do you call a senior?
Times Have Changed; What Should We Call 'Old People'?
What's New in the 2020 Medicare Communications and Marketing Guidelines?
What Fitness Programs are Available for Seniors?
More episodes you'll like:
4 Reasons Why Ritter Should Be Your FMO Insurance Agency | ASG156
Looking for an FMO? Not sure what a field marketing organization like Ritter Insurance Marketing can do for your insurance business? Learn everything you need to know in this can't-miss episode of the ASG Podcast!
Building Client Loyalty: More Than Just a Plan | ASG019
Learn how to build a book of business that's filled with loyal clients! These strategies are easy to implement and effective!
How Client Retention Boosts Insurance Sales | ASG084
Master the art of treating your client as the renewal, not their policy. Learn why building relationships with your current clients is more beneficial (and cost effective!) than courting new ones.
The latest from Agent Survival Guide:
How to Host a Successful Medicare Educational Event
Looking to host a Medicare educational event? Check out our FREE guide! If you've been hosting educational events for years, we think you'll still enjoy our tips and tricks to make your event even more successful. Agents with all levels of expertise can benefit from... (read more)
Staying Compliant Without Compromising Salesmanship
Staying compliant with every rule surrounding Medicare can seem daunting. If you're busy making sure you're staying compliant, how will you ever have time to meet with clients and sell? Aligning yourself... (read more)
Tips on Dealing with a Difficult Client
In an ideal world, all your clients would be an absolute pleasure to work with and selling them plans would be a piece of cake. However, we know this isn't always the... (read more)
Subscribe & Follow:
Connect on social: