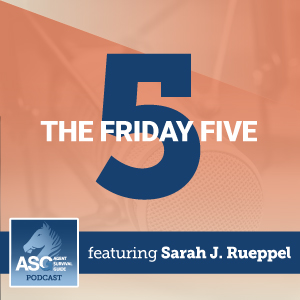 The Friday Five for September 3, 2021:
Headspace Health
CMS Chief Dental Officer
Phrases to Avoid With Clients
Dollar General Health?
Google Maps Hacks
Mentioned in this episode:
12 Phrases That Alienate Clients (and 12 to Use Instead)
CMS Announces Director of Center for Consumer Information and Insurance Oversight (CCIIO); First-Ever Chief Dental Officer; and Director of the Center for Program Integrity (CPI)
Dollar General came for your grocery dollars. Now it wants a slice of your health care spending, too.
Ginger and Headspace plan merger to rapidly scale up digital mental health services
Ginger and Headspace Will Merge to Meet Escalating Global Demand for Mental Health Support
Simple Google Maps tips and tricks that everyone should know
More episodes you'll like:
August 27, 2021 | The Friday Five
How to Make the Most of Life Insurance Awareness Month
Keys to Client Retention: Digital Communication
Keys to Client Retention: Face-to-Face Communication
Organization Tips and Tricks for AEP
Articles to Share with Your Clients:
5 Healthy Ways to Stay Busy on a Rainy Day
Quick and Easy Recipes for One
Ways Seniors Can Save on Travel
Ritter Insurance Marketing eBooks & Guides:
Agent Survival Kits: Beginners or Experts
How to Host a Successful Medicare Educational Event
Social Media Marketing for Insurance Agents
The latest from Ritter's Blog:
Ritter Acquires Executive Resource Insurance Network, Expands in Florida
Largest COLA Since 1983 Projected & How It Affects Part B Premiums
Medicare & Medicaid Compared: How Both Programs Benefit Insurance Agents
Subscribe & Follow:
Connect on social: